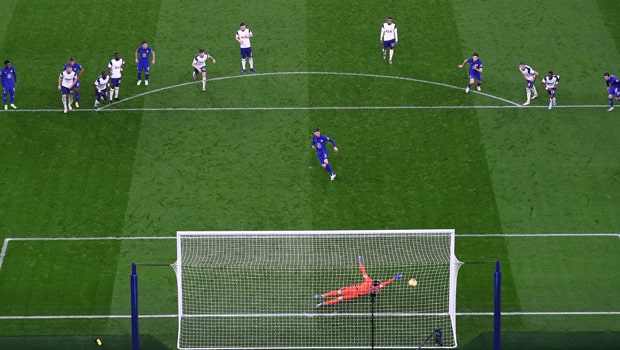 Chelsea got a 1-0 victory over Tottenham Hotspur at the White Hart Lane Stadium on Thursday evening with a 1-0 Victory.
The win is Thomas Tuchel's second victory in three games since becoming Chelsea's manager last week.
Thomas Tuchel's first game in charge of the Blues was against Wolves where they got a 0-0 draw, but Chelsea won their next match against Burnley 2-0.
Tottenham lost its last two matches before hosting Chelsea on Thursday evening.
Spurs lost 3-1 to Liverpool last week before losing to Brighton at the weekend away from home.
Tottenham Hotspurs fell behind in the 24th minute of the first half when Eric Dier tripped Timo Werner in the box, and the Blues got a penalty.
The Blues' midfielder, Jorghino stepped up and scored the resulting penalty.
Chelsea was dealt a blow 10 minutes later after Brazilian Defender Thiago Silva was injured and replaced by Christensen.
With no goals coming for the rest of the game, the result means it is the first time that Tottenham manager, Jose Mourinho will lose two home matches back-to-back in his career.
It is also the third consecutive game at Chelsea play since Thomas Tuchel's appointment without conceding.
Chelsea moved to the 6th position with the results awaited 36 points from 22 games played with Tottenham Hotspurs are in the eighth position with 33 points from 21 games.
Up next for the Blues is a trip to Bramall Lane against the league's bottom-placed side Sheffield United at the weekend, while Tottenham Hotspur would host West Brom on Sunday.
Meanwhile, Manchester City remains on the top of the Premier League table after their 2-0 victory against Burnley at the Turf Moor on Wednesday.
Pep Guardiola's side has 47 points from 21 games played this season and is three points away from second-placed Manchester United.
Leave a comment