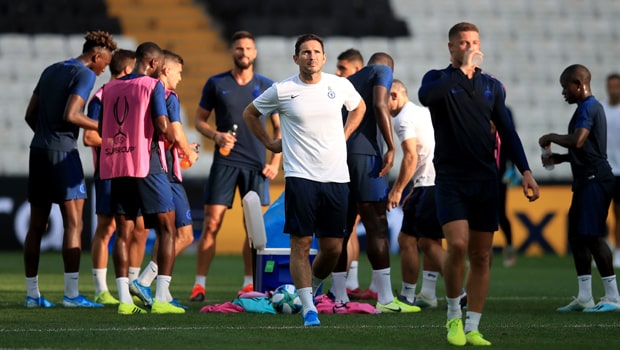 It has been a hectic fortnight in international football, which featured plenty of nail-biters – not only for the fans but the managers of domestic clubs as well. Their important key players might've been participating either in full playing condition or playing through small injuries or fitness problems. And once again, not all of the players will return unscathed from their national team duties.
Chelsea boss Frank Lampard is facing somewhat of a problematic decision when facing Newcastle in the weekend. His players involved in international games were plenty and four of them suffered more or less serious injuries. N'Golo Kante was spared any minutes by his French boss, after receiving a nagging muscle pain in the warmup, so there's something Lampard can be thankful for. Danish center back Andreas Christensen picked up a groin injury in the late minutes of Denmark's fixture against Switzerland, while Mateo Kovacic lasted only for a half for his home nation Croatia playing against Wales and they're both questionable. Reece James didn't feature this international break, after being injured already in the previous one. Goes without saying former England international Lampard might not be exactly happy with the development, as his squad has suffered from injuries from the start of the season.
Other notable injuries during the international break concerning European top clubs were, among others, Real Madrid duo Luka Modric & Gareth Bale, PSG:s much debated superstar Neymar, Manchester City's striker Sergio Agüero, Manchester United keeper David De Gea, Inter Milan's forward Alexis Sanchez and Atalanta's talisman striker Duvan Zapata.
De Gea is a massive loss for a struggling Manchester United, having been one of the only players performing at an acceptable level through the season. Sanchez had just found his stride after arriving to Inter on loan and now is reportedly out at least until next year, while Zapata, who is out for at least three weeks has scored six goals in seven games in Serie A. Neymar has been suffering from different sorts of injuries throughout his time at PSG and featuring in a friendly against Nigeria was not taken well by his manager at PSG, Thomas Tuchel.
Injuries are an unfortunate part of the game, but with transfer fees reaching hundreds of millions and salaries climbing, how much are the clubs prepared to suffer from the injuries acquired outside the office hours?
Domestic leagues are back with a bang after the international break. Here are couple of golden nuggets.
La Liga – Atletico Madrid vs Valencia (1×2): 1.68 – 3.60 – 5.40
Serie A – Lazio vs Atalanta (1×2): 2.25 – 3.60 – 2.97
Bundesliga – RB Leipzig vs Wolfsburg (1×2): 1.55 – 4.20 – 5.70
Premier League – Manchester United vs Liverpool (1×2): 4.60 – 3.80 – 1.73
Leave a comment