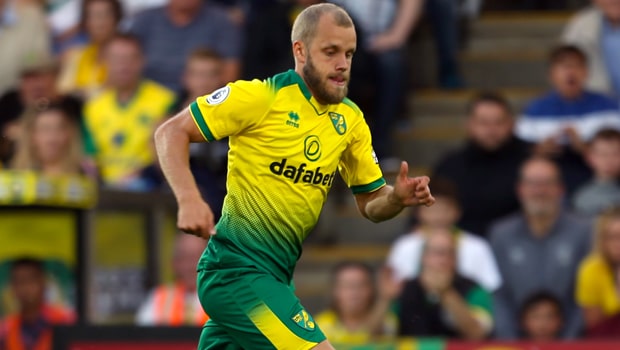 Dafabet sponsored Norwich City was well represented in the Finnish national team during the international break. Despite losing to their close group rivals Bosnia & Herzegovina, the Finns have a lot to be proud of after beating Armenia at home comfortably 3-0. Norwich City's goal-hungry striker Teemu Pukki was held scoreless in the first outing, a 4-1 loss against Bosnia & Herzegovina on the road, but in the second fixture against Armenia Pukki was once again on fire and on the score sheet. Pukki scored two very similar goals: well-timed runs behind the Armenia defense and clinical flick-overs into the net.
Finland has come close to qualifying to European Championship tournament before, but never have they been this near to their dream. With two games remaining in the Euro 2020 qualifying group, Finland stands second in the group with 15 points. The group-leading Italy has clinched their participation after winning all eight games and securing 24 points already. Armenia and Bosnia & Herzegovina stand 3rd and 4th, five points behind second placed Finland with 15 points.
Remaining fixtures for the Finns feature a home game against last-placed Liechtenstein and a road game in Greece. As it stands, they need two points from the final two games, providing their main opponents win both of their remaining games. The first match against Liechtenstein could decide the faith of Finland – simply winning the game would take them to the first European Championship tournament in the nation's history. They might not even need the win, if Armenia and Bosnia & Herzegovina fail to win both of their remaining fixtures; Armenia is facing Greece at home and Italy on the road, while Bosnia & Herzegovina take on Italy at home and Liechtenstein on the road. Needless to say, the two challengers are all-in against opponents that have nothing to play for.
For Finland the group stage has been a success and added to their rise in the ranks of the UEFA Nations League. Having only lost to Italy twice and Bosnia & Herzegovina once in Euro qualifiers, winning the rest has shown the quality of the young Finnish squad – in addition to more experienced input by the likes of Teemu Pukki and Lukas Hradecky.
Pukki has now scored seven goals (out of Finland's total of 12) in eight qualifiers and is tied 5th in the Euro 2020 qualification scoring race, with same amount of goals as, for example, Cristiano Ronaldo. Can Pukki carry his nation to their first ever European Championship tournament or will Finland stumble in the final stretch again?
Teemu Pukki and Norwich City return to action on Saturday in English Premier League

Bournemouth vs Norwich City (1×2): 1.77 – 4.00 – 4.05
English Premier League Top Goalscorer – Teemu Pukki: 41.00
Leave a comment