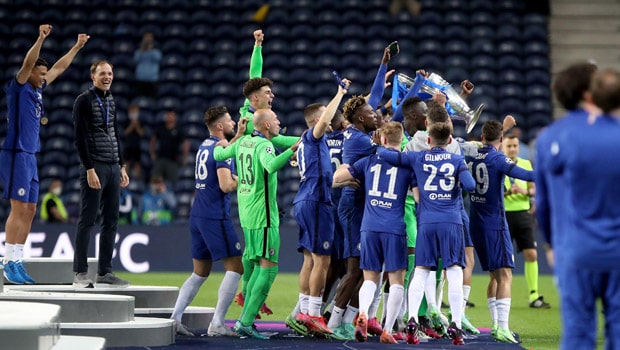 Chelsea manager Thomas Tuchel won the tactical battle against Pep Guardiola and Chelsea as the Blues won 1-0 in Porto to win the club's second-ever Champions League final.
Kai Havertz scored the match's only goal right before the halftime break.
"It's a huge experience and a huge success," Chelsea's James Tuchel said. "We all will profit from it and will use it to stay hungry, grow and evolve. It's a fantastic achievement and congratulations to everybody."
Most notably, Christian Pulisic was seen celebrating on the sidelines a they became the first American to play and win in a Champions League final.
"I couldn't imagine winning the Champions League ever in my life, and now I'm here. It's just crazy," Pulisic said.
Some critics did have some positive things to say about the impact of Kante for the Blues, while also criticizing Guardiola for a starting eleven that ultimately backfired.
"I want to go home with my family," City's Guardiola said. "It's been a long time since I've seen them. After that I'll come back to the club. It's going to be the best club in the world for the next few years."
City's star midfielder Kevin De Bruyne was forced off the pitch mid-way after suffering a potential concussion injury following a clash with Antonio Rudiger.
"Decisions are always to try to win the game," Guardiola said. "The way we played the game in the second half, they had one counter attack with Pulisic. They're a really good team, but we competed perfectly against them. In the second half we deserved to score one goal but we couldn't do it."
Tuchel and his Chelsea side have now defeated this same City club three times in the last six weeks. Quite a finish to this 2020-2021 campaign for the Blues.
Leave a comment