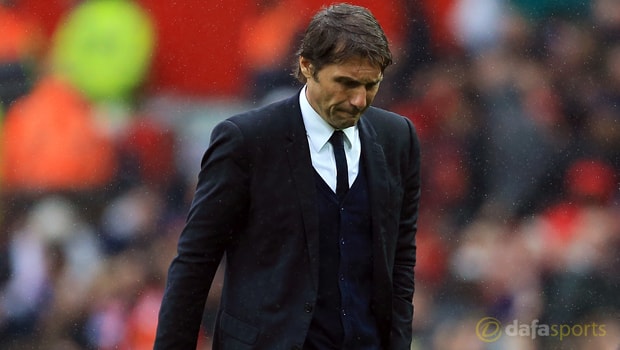 Chelsea manager Antonio Conte says he is happy to shoulder the blame for Sunday's 2-0 loss to Manchester United, which invited Tottenham back into the title race.
The Blues never got going at Old Trafford as Jose Mourinho's men put on a tactical masterclass on course to a 2-0 victory.
Marcus Rashford and Ander Herrera netted either side of half-time to force a second defeat in four matches on the Premier League leaders.
Chelsea, who are priced at 1.18 to win the Premier League, now sit just four points ahead of second-placed Tottenham, having held a 10-point lead over the north London club in March.
Conte, who has not come under scrutiny all season, admitted that he was to blame for Chelsea's poor performance at the Theatre of Dreams.
"We didn't play a good game and United deserved to win the game," said Conte.
"They showed more desire, more ambition, more motivation. In this case the fault is of the coach."
Chelsea's next outing comes against title rivals Spurs in the FA Cup semi-finals at Wembley on Saturday, and Conte has challenged his men to play with the same kind of enthusiasm as Tottenham as they look to remain a step ahead.
He added: "I have concern because we have to work together and find quickly the right ambition to win this title.
"If someone thinks it's normal for Chelsea to win the title, we started as underdogs after 10th place last season.
"Tottenham is in good form and playing with enthusiasm. We must find the same."
Leave a comment