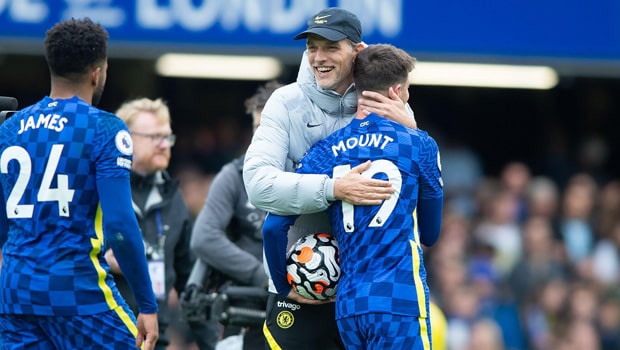 Chelsea and Norwich City kicked things off at Stamford Bridge on Saturday as the result was even more lopsided than expected as the Blues raced out to a 7-0 win. Blues remain on top of the table following the win, largely thanks for a hat-trick from Mason Mount.
"It was a good performance," Thomas Tuchel, current head coach of Premier League club Chelsea, said. "We were sharp and put in a lot of effort. We had high pressing, many ball wins and we were very precise. It was a deserved win. It's one game – fair enough, all the credit – but it's on to the next challenge. The offensive guys need goals to feel fully happy and the full confidence so this will help [Mason Mount] a lot. He waited long, too long so it was good he got some goals."
Mount is now the top scoring Chelsea player under Thomas Tuchel at Chelsea.
He's the first Chelsea player to score a track-trick at Stamford Bridge since Eden Hazard.
"I don't think I've ever scored more than one in a game!" Mount said after the match.
He is the 20th different player to score a Premier League hat-trick for Chelsea, with only Arsenal (21) having more different hat-trick scorers in the competition.
"Untouchable," Tuchel said about Mount, in regards to his contract discussions and potential extensions.
Callum Hudson-Odoi becomes Chelsea's 17th different scorer on the season.
Chelsea have scored 5+ goals in a single Premier League game for the first time under Thomas Tuchel.
This level of dominance seems to continue player by player. Edouard Mendy kept his 32nd clean sheet for Chelsea. He's made 56 appearances for the club.
Only Petr Cech (26), Pepe Reina (32), Alisson (36) and Roy Carroll (37) have needed fewer starts to reach 20 shut outs in the competition's history.
No goalkeeper has kept more clean sheets (5) in the Premier League this season than Edouard Mendy.
"We know that we face the toughest task in world football – a world-class coach, world-class players and a world-class club," Norwich City head coach Daniel Farke said ahead of the match. "They are the reigning Champions League winners and they are top of the league, in the best league in the world. It couldn't be harder."
Chelsea are back in EFL Cup action on 26 Oct vs Southampton before a PL fixture vs Newcastle on 20 October. Norwich, still looking up from the bottom of the PL standings, are back in action 31 October vs Leeds United.
Leave a comment