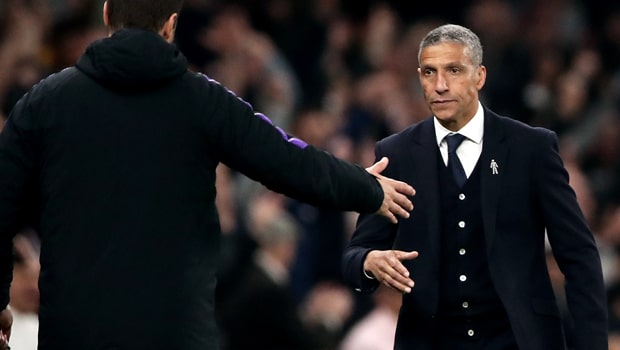 Brighton boss Chris Hughton concedes he was heartbroken by his team's late 1-0 defeat to Tottenham which has left them deep in the relegation battle.
The Seagulls defended valiantly for 88 minutes at the Tottenham Hotspur Stadium before Christian Eriksen's stunning strike broke the deadlock on Tuesday night.
The Denmark international fired home from 25 yards to boost Spurs' top-four hopes and put Brighton in serious trouble.
Hughton's men are still three points clear of 18th-placed Cardiff City although with three games to go the battle is on to stay in the top flight.
Cardiff have the harder fixtures and are 1.13 to go down, while Brighton are priced at 4.50.
"I genuinely felt that we had a little bit of fortune go our way, they hit the woodwork and you get a feeling that it is going to come, but the longer it went on I thought we were going to hold out," he told Sky Sports.
"If we managed the game a little bit better at the end, we would have got the result we wanted. We're in a pressurised position but it is only us that have put us there.
"We need to take whatever we can from these last two performances and they have been 'better feel' performances for us.
"We have an opportunity now at home against Newcastle. It's us that got us in this situation, so it's up to us to get out of it."
Leave a comment