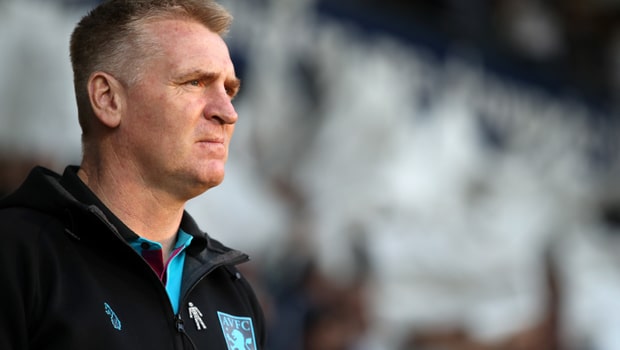 Aston Villa manager Dean Smith says the way his side performed in the second half of the season should give his side the edge in the Championship play-off final.
They meet Derby County at Wembley on Monday with the prize a place in the Premier League next season.
While Derby, under Frank Lampard. have been around the play-off places for most of the season, Villa have had to climb up the table thanks to a run of 10 consecutive wins which gave them a place in the top six.
They then beat West Brom on penalties in the semi-final to book a place at Wembley and Smith, who took over as boss from Steve Bruce earlier in the season, says that their recent run of form should give them the edge.
He said: "What we've got that can help us is, for the last 15 or 16 games, we've been playing must-win games.
"Each game we've taken in isolation and we've been on an unbelievable run.
"The players are the first to have won 10 games on the bounce at this club and they'll always be history makers."
He added that his side are confident with being over-confident. Both sides have suffered misery in the play-offs in recent years.
Derby have just had a single season in the Premier League, in 2007-08 and this is the fourth time they have been in the top six since, losing in the play-offs the previous three times.
Villa meanwhile were in the play-off final last year but lost to Fulham 1-0 at Wembley.
Villa are at 2.25 to book a return to the Premier League while Derby are 3.30. A week later is the Champions League final with Liverpool taking on Tottenham in Madrid, the Reds are 1.95 to win the trophy with Spurs 3.80.
Leave a comment