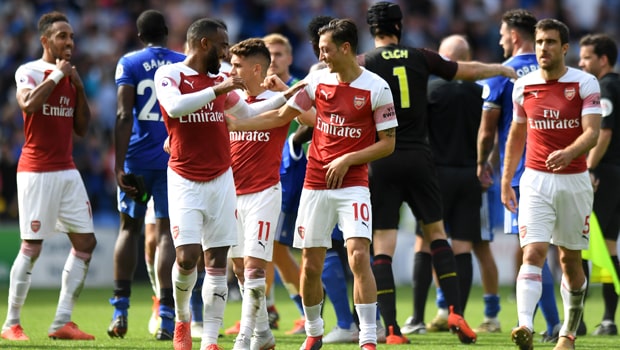 Nacho Monreal has backed Arsenal team-mate Mesut Ozil to carry on defying his critics without changing his personality.
The playmaker has been criticised for his body language at times during his Arsenal career, while it was recently suggested he had fallen out with new Gunners boss Unai Emery.
Monreal believes such rumours were 'invented' by Ozil's critics and the Spanish full-back says there is nothing to them.
Ozil's performances in Arsenal's two opening losses of the Premier League season were criticised by pundits and the German then missed the next game with a cold, sparking reports of a training ground bust-up with Emery.
He was back in the team that beat Cardiff City 3-2 last weekend and Monreal was quick to rubbish talk of unrest.
"People have been a bit unfair with him," he told the Evening Standard.
"He is a very famous player and obviously people love talking about him.
"Recently, it is always bad things. Like last time, he was sick and that's why he didn't play. People started to invent that he had a problem with the manager.
"It wasn't like that. He got a cold, he was sick, that's it. That's why he didn't play."
According to Monreal, the former Real Madrid man often gets unwarranted criticism because of his body language on the pitch.
Those that expect Ozil to change his ways are going to be disappointed but Monreal knows what his team-mate brings to the table.
"People must understand that every player is completely different," Monreal said.
"He is like that [quiet] and 10 years ago he was the same.
"So you can't expect on the pitch that he starts to fight, to talk with the referee because he never did it. He is not going to change in this case.
"The important thing is he plays at his highest level, gives a lot of assists, scores a lot of goals and basically helps the team. That's what he knows. He doesn't know how to go up to a player and grab him by the throat."
Arsenal are 2.88 to finish in the Premier League's top four this season.
Leave a comment