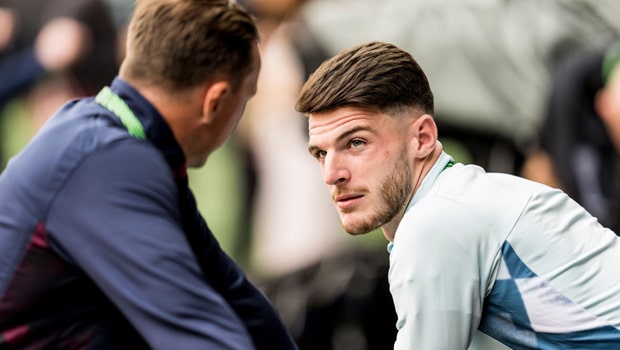 Declan Rice's arrival at the Gunners is marked by great expectations. Many believe that the English midfielder will be the key for Arsenal to challenge Manchester City's hegemony.
It's been several weeks since Rice arrived in North London, he even got the chance to make his Gunners debut in the Community Shield final.
In a conversation with Rio Ferdinand for TNT Sports, Rice confessed that he is taking a different approach to what players do in their first weeks at a new club. "You know when a new player comes to a club, they can be quiet, reserved," Rice told Ferdinand.
"I tried to do the complete opposite and go speak to anyone in my first couple of days, I was just trying to show everyone how I am as a character. I've got to speak to new people, speak to the kitchen staff, speak to staff, speak to other players… just to show my character and show that I' m not shy."
Rice also commented on how surprised and happy he is with the winning mentality of the team, especially with the work that the boss Mikel Arteta does.
"The moment I walked in the door, that's the thing that shocked me the most how much it's [the winning mentality] drilled into this club and the way the manager is drilling in the players about winning and not being far off, being one of the best teams in the world," he continued.
"That' s what excites me. That's why I came to Arsenal, to win, play under Mikel, to play with the players. It' s such an exciting project to be a part of.
"I think in the last four weeks alone I've grown so much. I've learned so much about football that I hadn't really seen before. I was blown away by him.
"Of course, I'm now working with him day by day, it's another level. Seeing how he works, how his mind operates, picking up stuff. Seeing how he goes into detail on the opposition and seeing how he wants to improve us as players individually collectively. It's really impressive."
Leave a comment