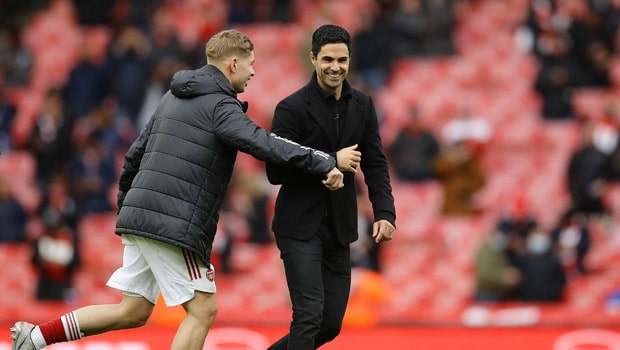 Emile Smith Rowe had an impressive breakout season with the Gunners. The player became a key part of Arteta's squad and made 33 appearances in all competitions. He also scored four goals and has emerged as one of the club's most promising young players.
The 20-year-old Englishman's outstanding performance has not gone unnoticed by other clubs, and this week one club dared to try to sign the player.
According to a report from The Athletic, Aston Villa has launched a £25 million bid for Smith Rowe. However, the Arsenal hierarchy immediately rejected the bid.
This is because Smith Rowe is an essential piece for the future of the club. In fact, the Gunners are working on a new five-year contract for the young Englishman.
Former Arsenal forward Kevin Campbell has said that Smith Rowe is one of the best creative players the club has ever had.
"Arsenal have had some incredible creative players and I think Smith Rowe is the next one. He is the new breed.
"One thing he is brilliant at is running with the ball. You don't really get many players that can run with the ball at the top end of the pitch and go both left and right. He can play any of those position across the front so I think he is a pretty unique player.
"Obviously, he has only had one season, though, and what we have seen is great flashes. Next season he needs to get stronger. I think he will go from strength to strength.
"We haven't seen creativity like his at Arsenal since Santi Cazorla, and of course, you have to mention Ozil. Smith Rowe is a different type of player to Ozil. He can create a niche for himself." Campbell said during a talk with Football Insider.
Leave a comment