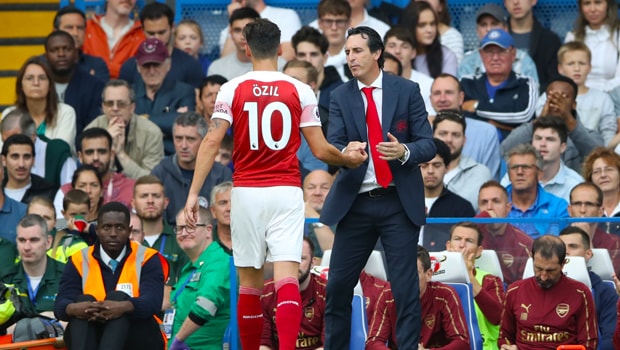 Arsenal manager Unai Emery says he has not fallen out with playmaker Mesut Ozil after the German missed Saturday's win over West Ham at the Emirates.
The Spaniard gained his first Premier League win at the third attempt, with Arsenal coming from behind to defeat their London rivals.
Marko Arnautovic's effort from outside the box gave the Hammers a first-half lead before a Nacho Monreal strike, Issa Diop's own goal and Danny Welbeck's late effort sealed a 3-1 victory.
The win will have come as a big relief for Emery, but afterwards he had to answer questions about his relationship with Ozil.
The influential German was officially absent because of illness, though rumours quickly grew that the World Cup winner had a disagreement with Emery after he learnt he was to be left out of the starting line-up. That theory was shot down by the Arsenal manager.
"No problem with the player. It isn't true, that information," Emery told reporters.
"I don't know who started it but if you ask me, the doctor, or the club, he was sick.
"He left training because he was going home. He was sick. Today he was here. I said come if you feel better and he felt better. Before the match he was with the team and with me. Ask the doctor. He can explain better."
He was happy to net his first league win but Emery insists the Gunners remain very much in a period following the departure of long-term boss Arsene Wenger in the summer.
"We need to improve in this transition to get the balance, to get more control with the ball," Emery told the BBC.
"West Ham are a good team. It was a difficult match. For that we are happy but there are things to improve. But also, the win gives the confidence for the players. The three points were very important. It was very important for our supporters."
Arsenal are 41.00 to win the Premier League this season and 3.50 to finish in the top four.
Leave a comment