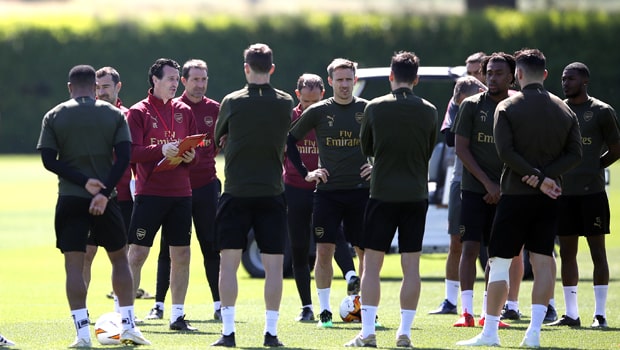 Change is never easy as we've so many times witnessed in the world of football. Change is especially hard, when it's necessary but forced, like it was in the case of Arsenal and Arsene Wenger. The club had, arguably, underachieved under the guidance of Arsene Wenger for his last couple of seasons and placing fourth in the Premier League without much success in the Champions League had become a tradition. Wenger's 22-year-reign ended in 2018, 14 years after Arsenal's last Premier League title.
Under Wenger, Arsenal had barely touched the war-chest in order to bring in already established players, but acquired a truckload of young talent for Wenger to mold into shape. While the philosophy worked wonders in the past and still carried decent results – it's not every club keeping up the fourth place constantly, with practically zero transfer spending, times were changing and Wenger's policy went out the window. In the last two transfer windows Arsenal got Granit Xhaka and Shkodran Mustafi for combined ~£100M and then Alexandre Lacazette and Pierre-Emerick Aubameyang for combined £133M. Result? 5th and 6th. It was time for Wenger to go.
The search for Wenger's replacement had been ongoing for ages and the Frenchman would've probably been let go earlier, if a suitable candidate was to emerge – but it didn't until 2018. An up-and-coming Spaniard Unai Emery had impressed first in Spain, leading Valencia and Sevilla to some success and lately continued tradition in PSG. Emery seemed like a perfect fit for Arsenal, with his ability to develop young talent and the tendency for attacking football. But England is not Spain and the problems soon arose.
Emery started cautiously in the transfer market, bringing in goalkeeper Bernd Leno, central back Sokratis and midfielder Lucas Torreira, with promising Matteo Guendouzi for some £80M pounds. None of the players was a star caliber name Arsenal fans had so hoped for, but the team had good depth and already established core. The only problem was, that the core is good enough for the the 5th spot and that's what Emery got. After somewhat of and underwhelming first season, hopes were high for the second. It was easy to see Arsenal's problems in the defense and in the creative side of the midfield.
Second season has seen Arsenal sink even deeper. Emery astonishingly spent almost £100M to bring in another forward during the summer, leaving the defense in shambles and midfield in disarray despite also adding Kieran Tierney and error prone David Luiz to the fold. Nicolas Pepe, the almost £100M man, arriving from Lille after scoring 23 goals and assisting on 12, has scored one goal in Premier League so far.
Arsenal are currently 5th in the Premier League – what else is new? They've conceded 15 goals in 11 games, more than for example Brighton and Bournemouth, seven more than Sheffield United. They've scored 16 goals, nine less than Chelsea or Liverpool, or as many as newly promoted Aston Villa. The fans are already losing patience, booing the team out after a draw or a loss – players have had enough as well, with now ex-captain Granit Xhaka losing it in front of the home crowd.
Emery has a mountain to climb with unrealistically high expectations and top-heavy team, which is his own doing. Arsenal need to start winning soon, or Emery's Gunners-career will be short-lived.
Leave a comment