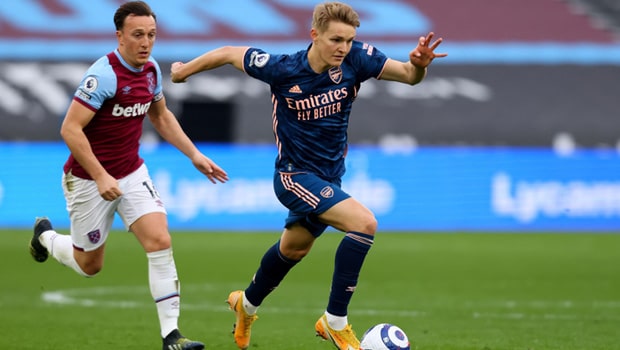 Arsenal somehow managed to finish in a 3-3 draw vs West Ham Sunday despite the three-goal deficit.
The Gunners gave up three goals in 32 minutes before Martin Ødegaard took it upon himself to somehow find some way to get Arsenal some consistency in possession.
He connected on 37 of 41 passes in the final thirty minutes, having a direct hand in the three goals that culminated with Lacazette's equalizing header.
"He had an incredible performance," Mikel Arteta said of Ødegaard. "He showed how much he wants to win. He gave us that ability and composure on the ball, and he created chance after chance."
West Ham's always-attacking mindset took Arsenal off guard to start the match.
"My feeling is mixed between proud of team for coming back in the second half and being poor in the first half," Arsenal's Alexandre Lacazette said after the match. "We did not respect the coach's game plan."
This truly was a tale of two halves for Arsenal.
"Probably the best that I have seen us play," Arteta said about Arsenal's play during the comeback.
Arsenal won the possession battle 62-38, but had just one more shot on target than did West Ham. West Ham didn't make matters easier for themselves as they finished with 15 fouls against them, close to twice as many as Arsenal.
For West Ham, the goal scorers were Jesse Lingard (15′), Jarrod Bowen (17′), and Tomas Soucek (32').
West Ham are back in league action Apr. 5 vs Wolves, while Arsenal get set for a marquee matchup Sunday Apr. 4 vs Liverpool.
Leave a comment