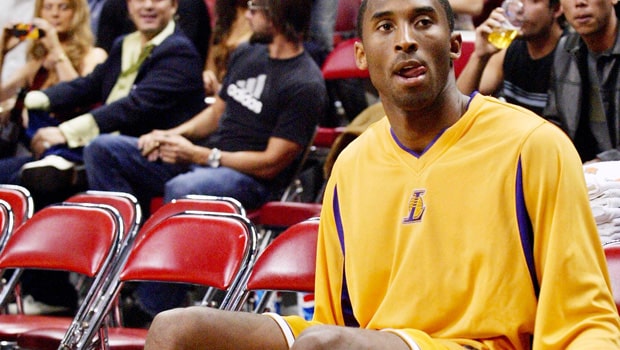 On March 2, 2008, Kobe Bryant didn't get it going in the first half against a tough Mavericks team, led by Dirk Nowitzki and with the recent addition of Jason Kidd. But just like Kobe is known for, the Black Mamba took charge late in the game, scoring 22 points in the fourth quarter, including the Lakers' final 14 and eight points in overtime, to seal a 108-104 victory for his team.
Bryant ended the game 15-for-27 from the field for 52 points (his 22nd game with 50 or more points) and he also added 11 rebounds and four assists in the win. This is what Mavericks head coach Avery Johnson said after the game:
"We gave him a single look, then we double-teamed him, then we gave him a triple-team and he split the triple-team and scored. We tried to zone him, we tried to funnel him in the trap for a zone and he went the other way. He didn't cooperate on any of our defenses."
Kobe Bryant is possibly one of the greatest NBA players of all-time and the greatest Laker ever. Two jersey numbers in the rafters at the STAPLES Center prove it. Kobe was able to take over games in ways that not many players could.
His drive to win at any cost helped him succeed on and off the court. An 18-time NBA All-Star, five-time NBA champion and one-time NBA MVP, Kobe tragically passed away on January 26, 2020.
Eduardo Solano, from FOX Sports Radio 1340 AM Hopewell and AccuScore, wrote this about Kobe Bryant recently:
"I've always been a Chicago Bulls fan but I followed Kobe Bryant's entire career! Kobe is one of my favorite athletes of all-time and I still can't process that he is gone."
Leave a comment