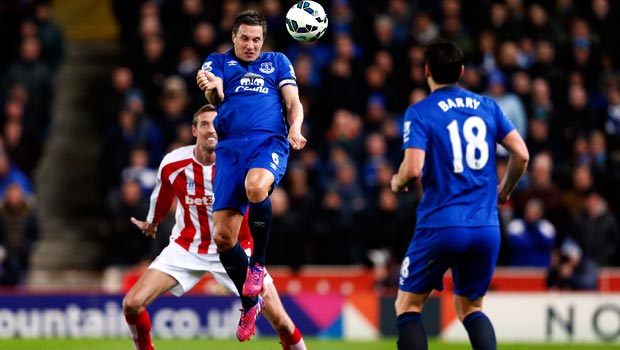 Everton captain Phil Jagielka says the players have to take some of the responsibility following an alarming slump in form this season.
The Blues had an excellent first season under the leadership of Roberto Martinez and expectation were high going into the new campaign.
It has turned out to be a season of struggle with many Everton fans calling for Martinez to be relieved of his position following Wednesday night's 2-0 defeat at Stoke.
Everton have won just one of their last 12 Premier League matches and sit 14th in the table, just six points above the drop zone going into the last 10 games.
The pressure may be mounting on Martinez, but Jagielka says the players also have to take some responsibility.
"The fans were great (against Stoke). It has been a difficult season to watch us because the performances have not been as good as last season," Jagielka told the Liverpool Echo.
"They are going to vent their frustrations, it is normally the manager that gets it as he is head of the food chain.
"But we as players know we need to buck our ideas up, start performing better and take pressure off him, pressure off ourselves and start getting some more points."
Everton also have a crucial game on the horizon when they take on Dynamo Kiev in the Europa League but Jagielka is clear with where their priorities lies.
"We know we need to concentrate on our league form," he added. "We have 10 games left now and need to pull our finger out and start picking up points."
Leave a comment