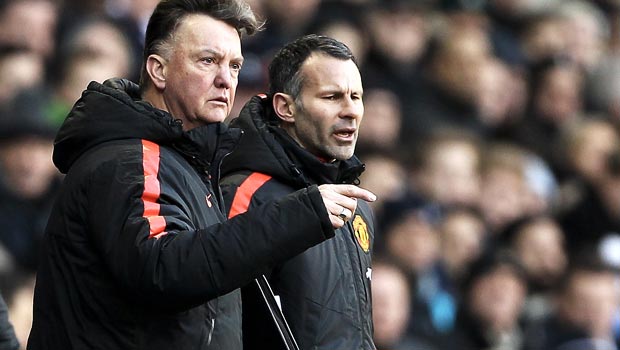 Manchester United manager Louis van Gaal insists he has a "very good relationship" with assistant manager Ryan Giggs.
The Dutchman was questioned about his relationship with the Welshman in the wake of Wednesday's narrow victory over Newcastle a St James'
Park.
Ashley Young scored a late winner for the Red Devils but while van Gaal was emotionally charged with his team's late breakthrough, Giggs appeared completely unmoved by the good fortune.
That prompted speculation there had been a fall-out between van Gaal and the United icon but the manager was less than impressed when questioned on the subject.
"I am very irritated at this question because everyone can see we have a very good relationship," he said.
Van Gaal admitted his frustration at the media's decision to focus on this issue.
"We work very hard together. Not only with Ryan but with all the staff and the players," he said.
"It is a way of suggesting things. I am very irritated. I take my measures against the media. I am not pleased."
The late win at Newcastle ensured United kept pace with Arsenal in the race for a top-four finish. The Gunners remain in third spot a point ahead of United, who in turn lead Liverpool by two points.
United will host Arsenal in the FA Cup quarter-finals on Monday night and van Gaal is excited by the clash with Arsene Wenger's team, suggesting it could be the defining clash in the FA Cup.
He added: "It is a game, 11 v 11 on a high level. Arsenal and Manchester United are placed third and fourth. It is nearly a final I think."
United are priced at 3.30 to win the FA Cup, with Arsenal at 3.80 ahead of their Old Trafford showdown.
Leave a comment