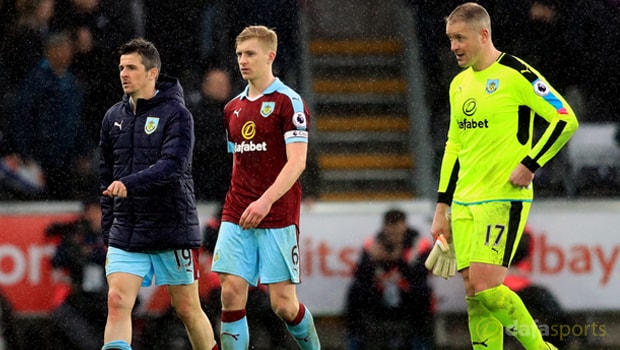 Veteran goalkeeper Paul Robinson has no doubts that Burnley have the quality to stay in the Premier League this
season.
Robinson, 37, feels the club should be looking to catch the teams above them rather than peering over their shoulders at the relegation battle behind.
With 11 games to play, Burney are currently 12th in the table. They've got a nine-point cushion from the bottom three and are only two points adrift of West Ham and Southampton above them.
Stoke, in ninth, are just five points away and former England stopper Robinson suggests Burnley should be looking up the table.
"We've got to look at moving upwards," he said. "We're sitting in the mid-table and we can't think 'that's it, we're done now', we need to push on again and we need to get above that 40 point mark and see where we can go because we're a good enough team to do so."
Robinson made his third start of the season at Swansea last weekend and although that ended in a late 3-2 defeat he has seen enough to know that the Clarets can stay up this season.
The goalkeeper praised the spirit and determination that exists in the Turf Moor dressing room and he has no fear of being relegated come May.
He doesn't want to rely too heavily on home form to achieve safety however. "Without a shadow of a doubt.
They've got more than enough to see the job through, on home form alone.
We shouldn't be relying on that but with the characters and the players we've got in there, and we've not played well at Swansea but still nearly got something out of the game," he added.
"Of the teams I've been with there's a lot more heart and desire in this dressing room and we'll stay up this year."
Burnley are 13.00 to win their next game away at Liverpool. The Reds are 1.22 while the draw is 6.00 for Sunday's game.
Leave a comment