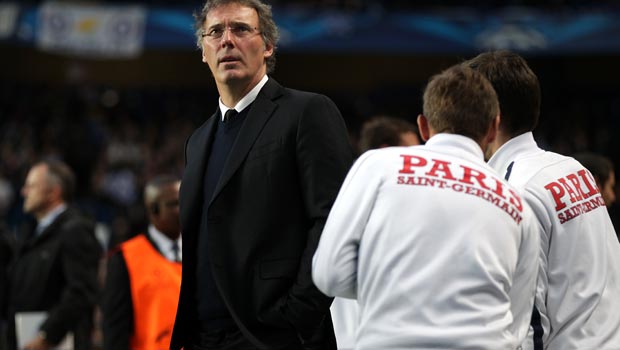 Paris Saint-Germain boss Laurent Blanc witnessed his side eke out a goalless draw with Evian but insisted there was no need to worry for the rest of the campaign.
The Ligue 1 champions have made an unbeaten start to the campaign but Friday's draw was the second of the season with PSG down in sixth place, four points adrift of pace-setters Bordeaux.
The 2009 champions have won all three matches so far and hold a two-point cushion over Lille, although Saint-Etienne can join Bordeaux on nine points if they beat Rennes on Sunday.
PSG were largely frustrated against Evian, who claimed their first point of the season with the draw, and looked impotent without star striker Zlatan Ibrahimovic against a side who had conceded nine goals in their opening two games.
Yohan Cabaye's second yellow card and subsequent red just after the hour mark seemed to end the capital club's chances of picking up the win, with Blanc content to settle for a point after withstanding some late pressure from the home side.
"Evian wanted to reassure and defended well," the 48-year-old told beIN Sports.
"We were not able to ask any questions with 11 [men], so it was harder to do with 10.
"This point is deserved by Paris and Evian. We did not quite create enough dangerous situations to win so it's a little bit of mixed feelings.
"But there is no need to worry."
Paris Saint-Germain will be hoping that a return to the Parc des Princes will help them rediscover the winning feeling, having beaten Bastia 2-0 there last week, when they face Saint-Etienne next Sunday.
Leave a comment