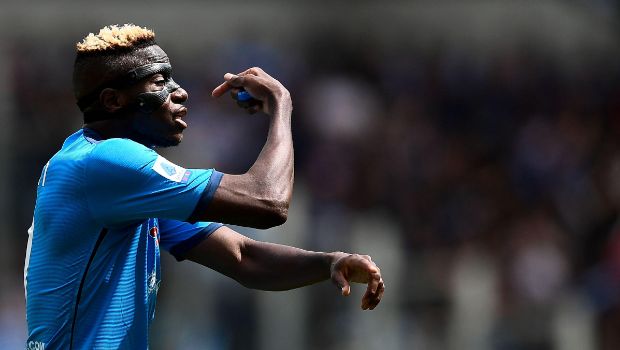 Napoli striker Victor Osimhen sealed the Scudetto celebration for his team with a goal in the 2-0 win over relegated Sampdoria.
Speaking on his future after the game, the Nigerian striker said, 'Anything is possible,' including Napoli winning the Champions League.
When asked if he would remain next season, Osimhen, who doesn't mind staying, said the President, Aurelio De Laurentiis, would decide.
The Nigeria international made his Serie A goal number 26 when he got and converted a penalty in the 2-0 win, confirming his Capocannoniere status.
He is also the first African to score 26 goals in a season in the league and won the award.
He has also been named Serie A Striker of the Season.
Reacting to this, excited Osimhen described his feeling as amazing, having won the Scudetto, which is the most important thing in his career.
He further expressed gratitude to God, his teammates, his family, and the Neapolitans for the support, adding that they deserve the success.
Osimhen, handed the Capocannoniere trophy, becomes the first player to combine the Capocannoniere crown with the Scudetto since Zlatan Ibrahimovic for Inter in 2009.
Describing the season as brilliant for him, his teammates, and the Neapolitans, the striker said his success this season is a motivation to do even more next season.
It's no longer news that Luciano Spalletti will leave Napoli as he embarks on a sabbatical after securing their first Scudetto in 33 years.
Osimhen described him as a great coach and a phenomenon who deserves respect, having been the architect of a great season.
When asked if he will be at Napoli next season due to the offers that come in, which could be too hard to turn down, he said:
"I don't know; the president has to decide that. I love the people of Napoli; they have shown me so much love. I don't mind, the president decides, and I will go with the flow."
Leave a comment