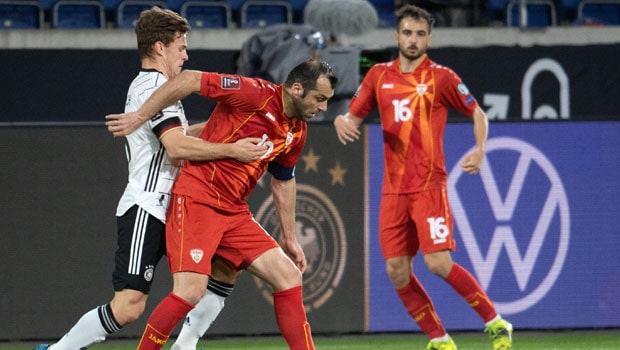 In an incredible series of events, North Macedonia defeated Germany, 2-1, in a World Cup qualifying match. Germany was unbeaten in 35 straight World Cup qualifiers, marking their first loss in such a match since September 1, 2001.
Goran Pandev (45 +2′) and Eljif Elmas (85′) were the goal scorers for North Macedonia, while İlkay Gündoğan (63') scored via penalty for Germany.
It was only their third EVER in FIFA World Cup qualifying. North Macedonia are ranked No. 25 in the FIFA world rankings.
Pandev's goal right before the break made him the oldest player ever (37) to score against Germany. It was his 37th international goal. He scored his first goal back in 2002, when Oliver Kahn was captain for Germany.
"This is bitterly disappointing," Joachim Low, German football coach, said. "We were not fresh enough, we made mistakes. When we played quickly we were dangerous but we did not find the tools to be really threatening. Overall, it was disappointing to lose like that at home."
With the win, North Macedonia sit in No. 2 spot of Group J with six points, three points behind No. 1 Armenia; Germany sit at No. 3 with 6 points.
"These lads have made North Macedonia proud against the winners of four World Cup titles and three European championships," Igor Angelovski, North Macedonia's coach, said.
The remaining two matches to determine who move on from Group J are scheduled for September 2021.
Leave a comment