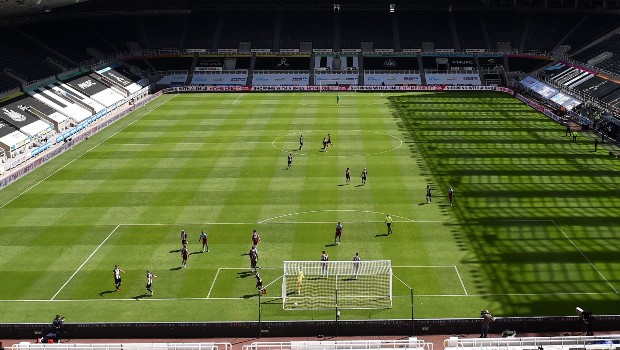 Newcastle United and its connection with billionaire businessman Mike Ashley is officially over after 14 years as a consortium led by Saudi Arabia's sovereign wealth fund purchased the club for a reported £300 million ($409 million).
"Today's announcement is the conclusion of a thorough and detailed process that has allowed the Investment Group to arrive at a deal that benefits all stakeholders and will leave Newcastle United well-placed to pursue a clear, long-term strategy," an official statement said.
This Saudi Public Investment Fund will now own 80% of the club with 10% going to properly developers, and 10% to British investor Amanda Staveley's PCP Capital Partners.
"We're incredibly proud to be custodians of the most incredible football club in the world," Staveley said. told the BBC, even as the team languishes in the Premier League's relegation zone. "We want the fans to trust us. We will listen to your voices and hope to get the rewards the fans richly deserve."
Newcastle has not won a major domestic trophy in 66-plus years.
"We obviously want to see trophies," she added. "That's what every new owner will probably say on day one. But we really do."
Staveley is well-known for helping put together the 2008 purchase of Manchester City by Sheikh Mansour.
"The Premier League, Newcastle United Football Club and St James Holdings Limited have today settled the dispute over the takeover of the club by the consortium of PIF, PCP Capital Partners and RB Sports & Media," the official statement from the Premier League said. "Following the completion of the Premier League's Owners' and Directors' Test, the club has been sold to the consortium with immediate effect. The legal disputes concerned which entities would own and/or have the ability to control the club following the takeover."
Despite the official statement, there are still plenty of ongoing discussions on this deal putting the Premier League in poor standing given the Saudi connection to certain human rights violations.
"Ever since this deal was first talked about we said it represented a clear attempt by the Saudi authorities to sportswash their appalling human rights record with the glamour of top-flight football," UK chief executive Sacha Deshmukh said.
According a survey in late 2020, about 97 percent of Newcastle United fans were in support of a Saudi takeover, despite said ethical connections.
"Pass the takeover, let us dream again," a Newcastle United's fan read back in July during a protest at Downing Street.
Newcastle is now the richest club in sport, worldwide.
Leave a comment