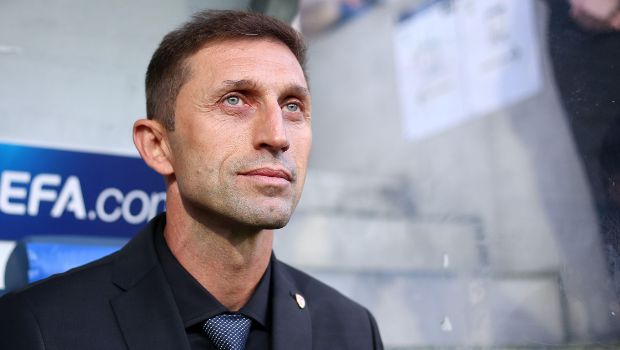 North Macedonia coach Blagoja Milevski has warned Italy that his men are not in Rome as tourists ahead of their Euro 2024 qualifiers.
Italy needs to defeat their visitors to stand a chance of securing automatic qualifications in their group behind England, that have already booked their ticket to Germany.
Speaking ahead of today's clash, Milevski said his aide will give Italy a battle on the pitch in the match that kicks off at the Stadio Olimpico at 19.45 GMT.
Although the Azzurri need four points from their remaining two matches against North Macedonia and Ukraine to secure qualification for the tournament, by-passing the playoffs, getting a maximum of points tonight will make their work easier against Ukraine.
North Macedonia, who are already out of the running for even a playoff spot, have nothing to lose and are therefore expected to play without any fear. Their final game will be against England.
Speaking during his press conference, Milevski said the aim is to succeed each time his team is on the field, and that won't change against the Azzurri.
While noting that every match has its own unique story, the coach said none of them are similar to the previous ones.
North Macedonia had stopped Italy from qualifying for the 2022 World Cup, which was one of their greatest moments in football. They wrote their name in a history book when they defeated Italy in the 2022 World Cup playoffs, thanks to a last-gasp goal in a match where the odds were against them.
They also showed that the success was no fluke when they held the Azzurri 2-2 during this qualifying group stage.
They are currently third behind Ukraine, piling all the pressure on the Nazionale.
It is hoped Italy will be able to get the job done this time around and be able to defend the title they won in England.
Leave a comment