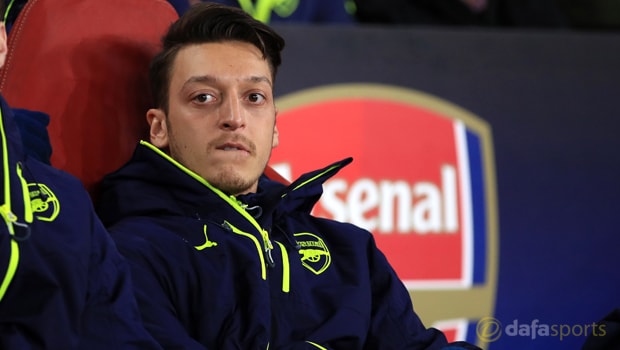 Mesut Ozil says he remains open to the idea of extending his Arsenal contract and he believes the club can win the Champions League.
The German's current deal expires in the summer of 2018 and there has been intense speculation that he will leave Arsenal this summer unless he signs an extension.
Ozil expects to have some movement on his contract talks soon, though he insists that will remain between himself and the club until something is signed.
He told German newspaper Die Welt: "Do you think Arsene Wenger tells the journalists [about my future] before he tells me? I know him differently.
"I have a contract until 2018 in London and I feel very comfortable there. We'll talk soon and then make a decision."
Arsenal have endured a major slump in form recently. Home and away 5-1 losses to Bayern Munich put an end to their European ambitions while they've also lost four times in five Premier League games.
That has resulted in the north Londoners dropping to sixth place and falling into danger of missing out on Champions League football next season.
Ozil feels they will finish on a high and he retains the ambition of helping Arsenal to their first ever Champions League success. "My dream is to win the Champions League.
Why not with Arsenal? Of course, we just have a difficult time and are not satisfied with sixth place," he added.
"I am convinced, however, that we will catch up again soon. Let's see what the future holds." Arsenal are 3.75 to finish in the top four this season.
Leave a comment