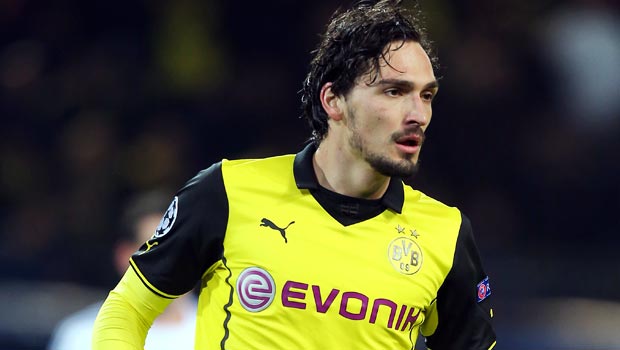 Borussia Dortmund centre-back Mats Hummels insists he isn't thinking about leaving the club this summer.
The Germany international has been linked with a move to Manchester United in recent weeks, with new boss Louis Van Gaal eager to improve his squad.
Reports have suggested that Van Gaal will make a move for the Dortmund star this summer with Rio Ferdinand and Nemanja Vidic both moving on to pastures new.
However, the lure of Premier League football does not appear to be tempting Hummels to leave the Bundesliga just yet.
"I never think about that or talk about it because it is something that isn't important for me right now," Hummels is quoted as saying by the Daily Telegraph.
"Maybe it will be some day, but I don't expect it to be like that this summer."
The defender was on hand to score a powerful header in Germany's 4-0 win over Portugal on Monday night.
During the contest he picked up a thigh injury which some feared could rule him out of the World Cup but Hummels has played down the fans fears and insists Germany can go all the way in Brazil.
He said: "If we are concentrated and focused, both defensively and offensively, then we are a good team and that is the way we play.
"If we can do that in every game, we are going to have a good chance to be very successful.
"We can win the World Cup, that is for sure. But the same counts for teams like Spain, Brazil and the Netherlands, so it will be very tough to win this tournament."
Germany's emphatic win on Monday once again showed they will be up there in a major tournament and they are currently priced at 5.20 to win the World Cup.
Leave a comment