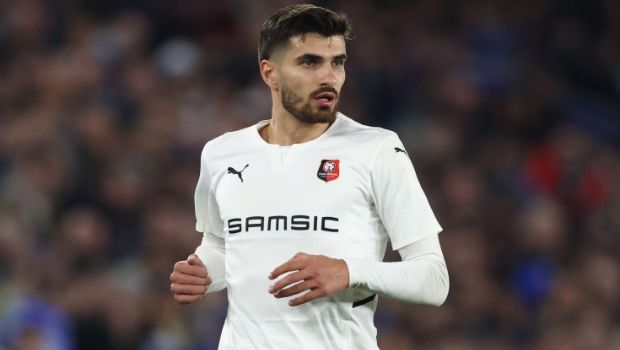 The 2023 season is already over for Rennes striker Martin Terrier after sustaining a ruptured cruciate ligament against Nice.
The striker was stretchered off in the 2-1 win on Monday after suffering the in his right knee. Thus, the injury has ended the sensational striker's promising season.
It was not a good site when the Rennes' star went down screaming and holding his right knee after a collision with Nice full-back Jordan Lotomba at the half-hour mark.
After a medical examination by the team doctor discovered that he had ruptured his cruciate ligament, and an operation could be considered soon.
His role will be difficult due to his importance in the squad.
Fortunately, the January transfer allows the team to get a replacement.
He had a stunning 2021-22 campaign, scoring 21 Ligue 1 Uber Eats goals. Terrier had continued from where he stopped, scoring 12 in the current season, all competitions combined, including the opening goal in the 5th minute against Nice on Monday night.
His absence will be a big blow for Rennes, who are fighting for a European finish. They will have to continue the fight without their 25-year-old talisman.
Reacting to the development, Rennes boss Bruno Genesio who extols the virtue of the striker, pointed out that he is a leader of the attack, capable of scoring and setting goals.
He also noted that the striker is crucial in constructing our play.
"His role will be a tough absence to fill, but there are players who are there and who haven't had all that many opportunities to show themselves," he added.
According to Genesio, Rennes are looking at the option of an attacking reinforcement in the winter transfer window.
Rennes are currently fourth on the log with 34 points, two points behind Marseille, occupying the final Champions League slot.
Leave a comment