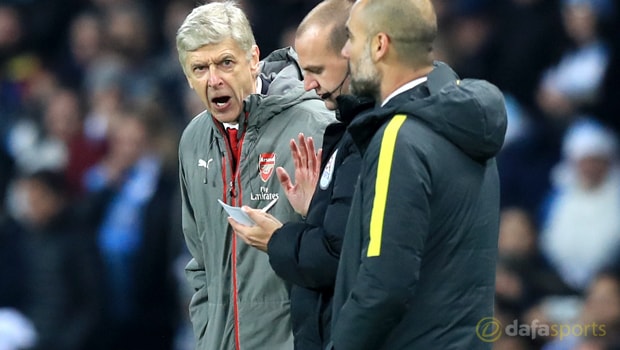 Manager Arsene Wenger and goalkeeper Petr Cech expressed their disappointment with some of the official's decisions after the 2-1 loss to Manchester City.
Arsenal led the home side by a Theo Walcott goal at half time but strikes from Leroy Sane and Raheem Sterling gave Pep Guardiola's team all three points.
Sane appeared to be right on the line of offside when David Silva played him through on goal, while the diminutive Spaniard was involved against for City's winner, apparently running across Cech's line of sight from an offside position as Sterling unleashed his powerful shot past the goalkeeper at his near post.
Wenger, who side also lost from a winning position in midweek at Everton, felt that both City goals should have been chalked off.
"Of course I'm disappointed and frustrated. We had a very good first half. We got caught cold," he told reporters.
"We conceded two offside goals. It's difficult to accept. I believe there's a lot going on [regarding 'bad' refereeing decisions].
It's hard going into a game like that and you get decisions go against you. They are professional and we are professional and have to stand up for our mistakes."
Cech felt Sane's goal on 47 minutes was the key moment in the game but he insisted he was denied a clear view of Sterling's winner by the run of Silva.
"What changed was the early goal in the second half which gave them a lot of confidence," he told Sky Sports.
"For the second goal I didn't see the shot and there were people running across – I don't know if it was David Silva or not – I didn't see the ball because there was someone in front."
Arsenal are 11.00 to win the Premier League following their defeat while Manchester City are now 4.50 to overhaul leaders Chelsea.
Leave a comment