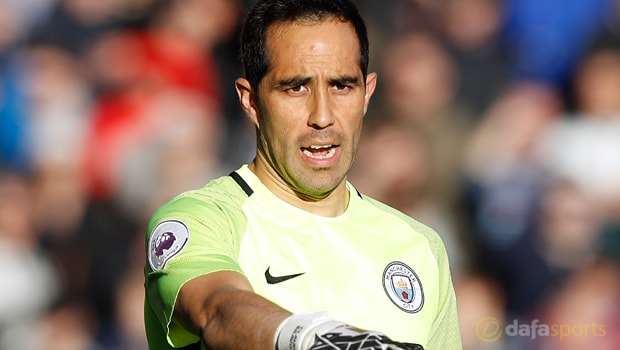 Manchester City goalkeeper Claudio Bravo insists he is happy to accept any criticism that comes his way and feels it helps him to become a better player.
The Chile international joined Manchester City, who are priced at 3.75 to win the Premier League, over the summer for a fee of £17million from Barcelona as Pep Guardiola looked to replace Joe Hart.
Guardiola was keen to bring in a goalkeeper capable of starting moves from the back and comfortable with using his feet.
However, the 33-year-old has come in for some criticism after making some high-profile mistakes domestically and in the Champions League.
The former Real Sociedad man was shown a red card in the Champions League loss to Barcelona at the Nou Camp, while his performance came under fire after last weekend's defeat to Chelsea.
Bravo insists he has no issues with being under the spotlight and says it will take time for the squad as a whole to get to grips with Guardiola's philosophy.
"The problem is that, from 300 passes, you make one mistake … I had that bad luck in one game, the Champions League tie in Barcelona, when I was sent off.
But it's a risk you must take," Bravo said. "The criticism is going to exist but I have no problem with that. "In fact, I often accept criticism because I feel it helps me to get better and get stronger.
And I hardly ever remember the compliments. "We are changing the idea of how the team plays.
I think it's been positive in that sense. Maybe the results at home haven't been positive but overall we have made some great performances."
Leave a comment