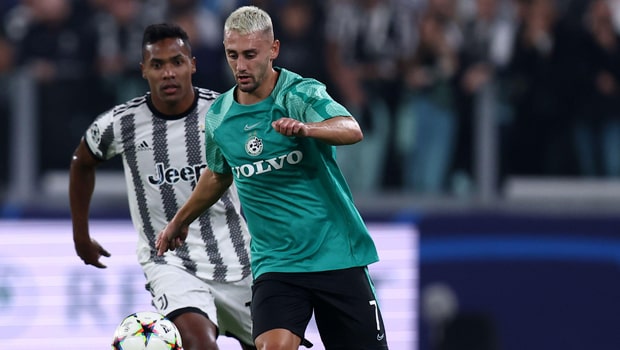 Maccabi Haifa recorded its first win in the group stages of the Champions League in 20 years as Omer Atzili's two first-half goals (7', 42') led the way to a 2-0 result over Juventus Tuesday at home.
Atzili became the first Maccabi Haifa player to score more than one Champions League goal since Yakubu in 2002. He finished Tuesday's match with four crosses, four shots with three on target, three touches in the opposition's box, one foul won and two goals.
Juventus — on the heels of a 2-0 to AC Milan on Saturday — are trending the other way as they have three losses in four Champions League games, and are in eighth place in Serie A.
"Massimiliano Allegri is our head coach and he will stay," Juventus president Andrea Agnelli said after the match.
"This is a difficult night in a difficult period. It is one of the most difficult periods and the moment to take responsibility, which is why I am here. I feel ashamed for what is happening, I am angry, but I also know that football is played with 11 men, you lose and win with 11. In a situation like this, it's not about one person. It's a matter to be dealt with by a whole group. We feel ashamed, we apologize to our fans, because we know they must feel ashamed to walk around at the moment."
Allegri, following the backing of the club, had his own statement just hours after the tough loss.
"The president is right to say that we should be ashamed, this has been one of the worst days of recent times, and staying together will do us well to work, rest and reflect." Allegri said. "I've never thought about resigning, because the more difficult the challenge becomes, the better the feeling to overcome it. This thought must enter everyone's heads so that we respond with courage, desire and passion."
A major factor in how the first half went was a result of Angel Di Maria having to come off the pitch (22') for Juventus after an injury. Reports on Tuesday night indicated he would get further evaluations on the potential muscle sprain in Turin tomorrow.
He had three assists in Juventus' win over Maccabi Haifa last week in the 3-1 result. Following that hat-trick of assists, Di Maria passed Lionel Messi to become second all-time for assists in the Champions League; only Cristiano Ronaldo (42) has more.
Both Juventus and Maccabi Haifa have three points through four matches, with PSG and Benfica leading Group H with 8 points each.
Up next in the Champions League for Maccabi Haifa is a matchup with PSG, with Juventus away at Benfica.
Leave a comment