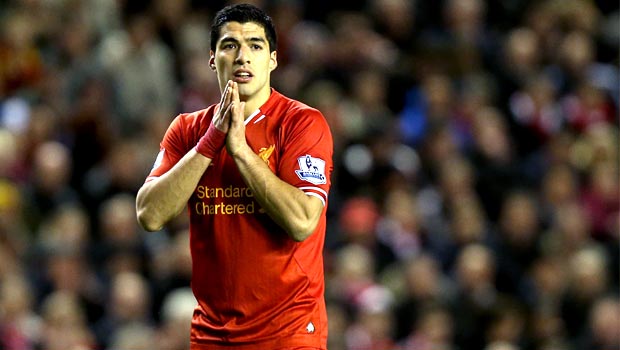 Luis Suarez says it is with a heavy heart that he leaves Merseyside for Spain as the Uruguayan's Move to Barcelona was confirmed on Friday.
The most controversial player in Liverpool's history is finally set to make his much reported move to Barcelona, with both clubs announcing that a deal has been done at last.
The stumbling block was in the asking price of £75 million, with the Catalan giants holding out to try and broker a deal that suited them, but it would appear that they have relented and in doing so got their man.
From racial abuse to biting, to the most outrageous spectacular goals, Suarez will leave behind more than enough memories, and at least has helped the Anfield outfit get back into the Champions League, as well as so nearly lifting the Premier League trophy before taking his young family to Spain.
"It is with a heavy heart that I leave Liverpool for a new life and new challenges in Spain," he told the club's official website.
"Both me and my family have fallen in love with this club and with the city.
"But most of all I have fallen in love with the incredible fans. You have always supported me and we, as a family, will never forget it, we will always be Liverpool supporters.
"I hope you can all understand why I have made this decision. This club did all they could to get me to stay, but playing and living in Spain, where my wife's family live, is a lifelong dream and ambition. I believe now the timing is right.
"I wish Brendan Rodgers and the team well for the future. The club is in great hands and I'm sure will be successful again next season.
"I am very proud I have played my part in helping to return Liverpool to the elite of the Premier League and in particular back into the Champions League.
"Thank you again for some great moments and memories. You'll Never Walk Alone."
At least he has not gone to one of Liverpool's title challengers, and leaves on the best of terms, with Brendan Rogers paying him a special tribute.
"Luis is a very special talent and I thank him for the role he has played in the team in the past two years, during my time at Liverpool," he said.
"I think he would be the first to accept he has improved as a player over that period, along with the team and has benefited from being here, as we have benefited from him.
"The club have done all they can over a sustained period of time to try to keep Luis at Liverpool. It is with great reluctance and following lengthy discussions we have eventually agreed to his wishes to move to Spain for new experiences and challenges. We wish him and his young family well; we will always consider them to be friends."
Alexis Sanchez has left Barcelona this summer but the arrival of Suarez will form a formidable attacking trio for the Catalans, alongside Neymar and Lionel Messi as the Blaugrana look to bounce back next season.
Leave a comment