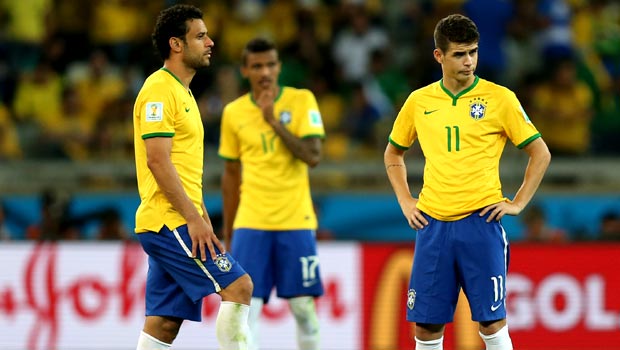 Brazil must lift themselves one last time if they are to avoid further humiliation when they take on the Netherlands at the World Cup on Saturday.
In truth, the third-place play-off is always a fixture that neither side relishes and for Brazil, still shellshocked by the 7-1 mauling at the hands of Germany, victory can never erase the nightmare.
However, coach Luiz Felipe Scolari, who is most likely to be sacked after the World Cup if he does not resign first, must somehow stress to his players the importance of going out with their heads held high.
"I know my career will be marked by this defeat but we have an obligation to move on, thinking about the next goal, which in this case is the match for third place in Brasilia," he said.
"I know it's a much smaller dream than we all wanted but we have to honour the shirt of the national team."
At least Scolari is looking at things positively, unlike Netherlands coach Louis van Gaal who saw his side go out on penalties to Argentina on Wednesday.
"This match should never be played. I've been saying that for 10 years; it's unfair," said the incoming Manchester United boss. "There is only one award that counts and that is becoming world champions.
"The worst thing is that there is a chance you are going to lose twice in a row. And in a tournament in which you have played so marvellously well you go home as a loser. This has got nothing to do whatsoever with sport, not in my view."
The two sides last met in the 2010 World Cup quarter-finals, with the Dutch winning 2-1, so Brazil have the added incentive of revenge, possibly with the help of captain Thiago Silva whose absence through suspension certainly did not help against Germany.
The centre-back said: "I have always said our only goal is the title, and that the second, third or fourth place is not important to us.
"But now we have to be ready for this game. We have to prepare for it in the normal way and honour our national shirt."
Brazil are 2.14 favourites with Dafabet, with Holland available at 3.08.
Leave a comment