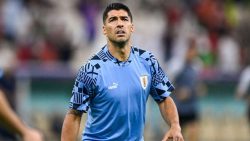 Uruguayan striker Luis Suarez has to play piledriver ahead of Friday's clash against American and Ghana in the final group stage of Group H of the FIFA World Cup in Qatar.
The last time both countries met was 12 years ago at the FIFA World Cup in South Africa in 2010; Uruguay made it to the semifinals ahead of Ghana in one of the most dramatic and iconic World Cup moments.
Luis Suarez was sent off for stopping a goal with his hands in extra time of their quarter-final clash. However, Asamoah Gyan lost the resultant penalty.
Twelve years later, as both countries prepare to go head-to-head in their first class since then, Luis Suarez has said he will not apologize for the incident as it wasn't their fault or the reason for the Ghana semifinal miss.
"I don't apologize for it, I apologize if I injure a player, but I took a red card for the handball. It wasn't my fault because I didn't miss the penalty. Everyone felt bad [in 2010], but for me, I just want to get to the next stage; revenge or not, we would go with the same determination and desire to win. I am not looking back; I don't want to focus on the past." Suarez said.
Meanwhile, Friday's fixture is a significant one as Uruguay is yet to win at the World Cup and needs a win to qualify at the expense of Ghana, while Ghana needs a victory as well to be assured of qualification, although a draw could be enough as long as South Korea doesn't win against Portugal.
As it stands, Portugal is already through, while Ghana are in second place, with South Korea and Uruguay third and fourth, respectively.
Leave a comment