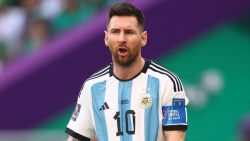 Despite a missed penalty from Lionel Messi in the first half, Argentina were able to move to the round of 16 of the FIFA World Cup after beating Poland 2-0 on Wednesday evening.
The 2014 World Cup final list against Germany in the World Cup hosted by Brazil started the 2022 FIFA World Cup in Qatar with a 2:1 loss to Saudi Arabia in their opening game.
However, the South American champions revived their chances in the second game against Mexico in a 2-0 win.
Lionel Messi opened the scoring in the game against Mexico, and he could have done it again against Poland, but Juventus goalkeeper Wojciech Szczesny was up to the task of denying Lionel Messi from the penalty spot.
A VAR intervention had awarded a penalty for Szczesny's hit on Lionel Messi while trying to clear a cross.
However, the Paris Saint-Germain forward couldn't capitalize as the first half ended goalless with both sides going into the break level, although it was the first half that Argentina largely dominated.
Therefore, it wasn't surprising that they took the lead early in the second half when Brighton midfielder Alexis McAllister scored immediately after the break in the 46th minute.
Argentina then ensured full control of the game and their qualification destiny when Manchester City forward Julian Alvarez scored with 23 minutes left to play.
Neither side could add to the tally afterward, but Poland had already done enough to secure a spot in the round of 16 with four points, while Argentina won the group.
Mexico may have defeated Saudi Arabia 2-1, but it was not enough to see them topple Poland for the second spot in the group. Argentina will now face the Australian national team in the round of 16, while Poland will face France.
Leave a comment