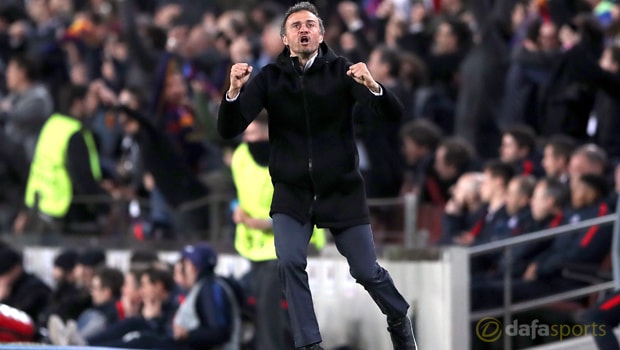 Barcelona

boss Luis Enrique insists he never stopped believing that his players could turn around their incredible Champions League quarter-final with Paris St-Germain.
The Catalans lost the first leg 4-0 in the Paris but they created a slice of football history with a stunning 6-1 win at the Nou Camp on Wednesday evening to prevail.
A scarcely believable ending saw Neymar score twice and Sergi Roberto volley home with almost the final kick of the game to send Barcelona through, as they became the first team in Champions League knockout history to overturn a four-goal first leg loss.
They led 2-0 at half time before Lionel Messi's penalty put them within one goal, however it seemed all was lost when Edinson Cavani thundered home a precious away goal just beyond the hour mark.
Even when Neymar curled home a free-kick on 88 minutes, Barca required two more to progress but they found them in the most dramatic of finales.
Enrique, who has announced his decision to step down as boss at the end of the season since the first leg, said he never lost faith.
"I would like to thank everyone who kept their faith after we lost 4-0. This is dedicated to them because this isn't the Harlem Globetrotters, this is football," he said.
"I don't think anyone stopped believing. After seeing them sit back despite the goal, the team were incredible."
Conceding that such magical occasions are rare, even for Barcelona, Enrique heaped praise on how his players went about their task on the night.
"We risked everything and it paid off," he added. "You get finales like this very occasionally in football and this time it was our turn.
"A feat like this does everyone good and I'm delighted to enjoy a moment like this.
The key was our efficiency." Barcelona are now 3.75 to win the Champions League this season.
Leave a comment