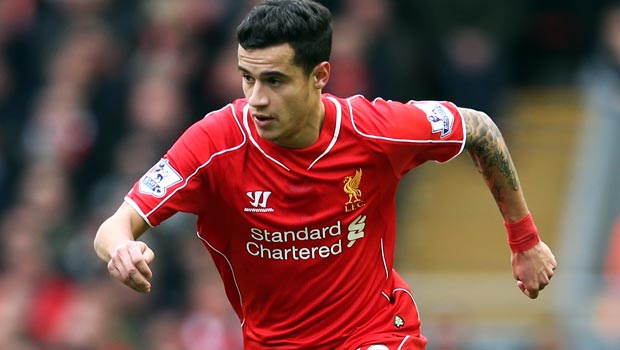 Liverpool manager Brendan Rodgers has praised the recent form of midfielder Philippe Coutinho after the Brazilian was named the PFA Fans' player of the month for February.
The 22-year-old has scored three goals in seven matches, including his wonderful curling effort which ensured the Reds secured a 2-1 win over Manchester City.
Coutinho has now scored the winner against City at Anfield for two years running and his strike moved Rodgers' side just three points behind the top three.
His performances last season were key to Liverpool's success and the midfielder could be in line to win several awards at the end of the season.
Although Rodgers insists he can still improve, the former Swansea boss has praised Coutinho's recent form.
"He is certainly going to be up there, there is no doubt about that. He has played very well," he told Sky Sports.
"I think that period the team suffered at the start of the season, with our lack of penetration at the top of the field – he is the player that thrives on that.
"He is normally the player that makes the last pass for those players running in to score the goals.
"We didn't quite have that in the opening months. He had to stay longer on the ball and wasn't as effective, but now the dynamics in the team are very good, with the pressing and the movement off the ball.
"That allows him and his technical quality to really shine and he is starting to add goals to his game, and scoring some fantastic goals."
Leave a comment