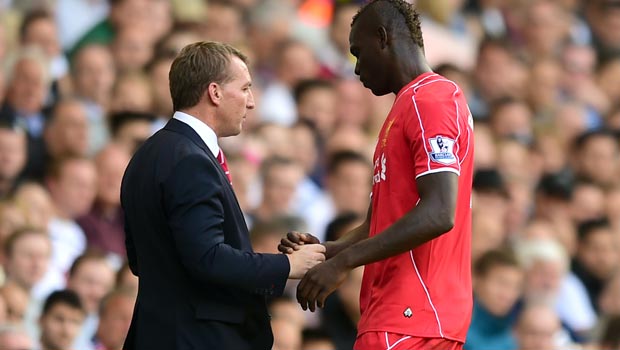 Liverpool proved far too strong for supposed top-four rivals Tottenham with an 'exceptional' display as striker Mario Balotelli was given little time to adjust to life at Anfield, making his debut for the Reds.
The controversial Italian striker completed his move to Liverpool on the same day Brendan Rodgers' men suffered a 3-1 defeat at his former club Manchester City on Monday.
However, that scoreline always flattered the champions as did the fact that Spurs were on top of the table at the time, with Liverpool demonstrating that they will be challenging for the title once again with a 3-0 win at White Hart Lane.
On Sunday's evidence, Spurs may struggle to upset the Premier League's established order despite the arrival of Mauricio Pochettino as Liverpool dominated all aspects of the game.
Raheem Sterling, Steven Gerrard and Alberto Moreno scored the goals for last year's runners-up but they could have made it even more convincing and replicated their 5-0 success of last term, while they restricted the Lilywhites in a strong defensive display.
Rodgers could not have been more happy with his side and rather than single out any one individual, preferred to hail the collective of his men.
"I think that everything that could be good in our game, was there,"
he told Sky Sports.
"Our organisation defensively was very strong, we played the diamond for the first hour and were a threat in between the lines in midfield, and obviously the two boys up front were fantastic.
"Our quality was exceptional. We got three goals and could maybe have had more. Defensively we were resolute, kept the lines tight together to minimise their chances, and closed the game out very well, so all round it was a great three points for us."
Leave a comment