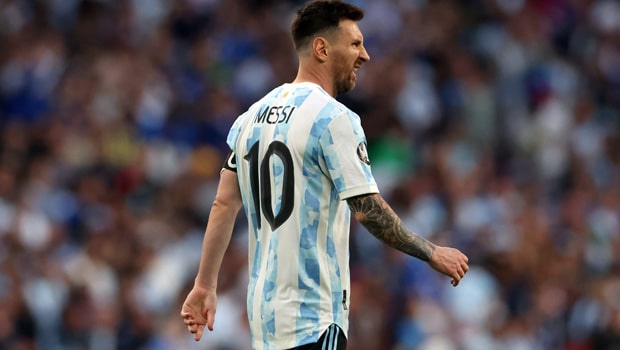 Lionel Messi had a sensational night in Argentina colours as he scored all of the five goals as La Albiceleste completely demolished European minnows Estonia. Messi thanked the Argentina fans for their love and support after an incredible international break as they proved a few point and were very lethal against top teams aswell.
Argentina continued their great form just where they left in the game against Italy where they won their second trophy within a year's time. Lionel Scaloni's men are gelling up really nicely as they defeated Italy 3-0 at the Wembley stadium as they won the Finalissima.
Messi was superb against Italy as well as he came up with two assists in the big night against the European champions. But against Estonia he was once again seen as his former self. He scored all the five goals in the game and got everyone talking about him once again.
Following his superb performances against Estonia, Lionel Messi took to Instagram to thank the fans for their relentless support and love. "We could not close the season better. We won the Finalissima and today we added more minutes preparing for the World Cup. Thanks again to everyone who came to the field and to those who follow us from a distance. We're going to rest for a few days and we'll be back very soon! Hugs to all!!"
After a couple of superlative efforts from this Argentina team, football fans all over the globe have started taking notice of this team and many consider them to be a contender to lift the World Cup this year in Qatar. It will be a dream come true for Argentina fans and also for Lionel Messi as this is the only trophy that is left in his career. He came close to it once but it did not have a happy ending for him. This time it looks very much possible as they have great dynamism in their play and tremendous depth and quality in each position.
Speaking after the game, Argentine goalkeeper Emiliano Martinez spoke about the change in tide and how his team has turned the table. He told the reporters, "A year ago we were nothing and today we are (World Cup) candidates because we won titles. We will always be candidates because we have the best in the world (in Messi). We are all lions who fight for him!".
Leave a comment