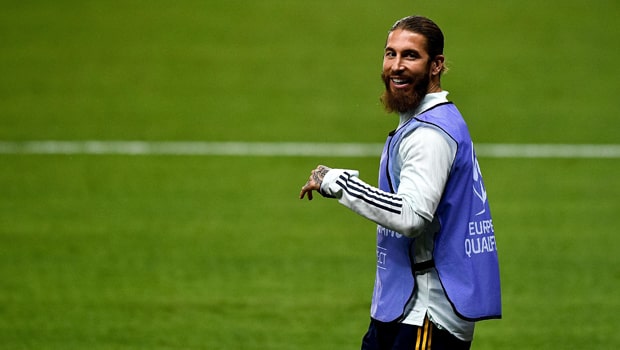 PSG's new signing, Sergio Ramos, has said he will never celebrate against his former club if he eventually scores against them should the Ligue 1 club meet them in any game.
Speaking at his first conference as a PSG player after signing a two-year deal, the 35-year-old former Madrid captain said having played for the Galacticos for 16 years, he still has a lot of respect for the Merengues.
Speaking on the speculation surrounding the future of Kylian Mbappe, Ramos, who said he would recommend a spell at Los Blancos one day for him, hopes he stays at the club for now.
But indications have shown that the French striker might want to run down his present contract, which expires in June 2022.
Ramos, who could give the young lad advice, having spent over a decade with Los Blancos, said he could advise Mbappe personally but want him in the team because he likes playing with the best.
Not knowing the mind of the young striker, who dreamed of playing for Madrid one day, Ramos admitted that the huge talent could make a difference in any team because he is very young.
While lauding PSG for having a very good team with great players, Ramos said he could bring his winning spirit, making the team successful.
Ramos left Real Madrid as a free agent. The exit of the legend surprised many after he was not offered a new deal. He had suffered many setbacks last season from injuries, which eventually made Luis Enrique drop him from the Spain squad for the European Championship.
The veteran also described himself as an adventurer who is not ready to look back at his mistake as his priority is to come to a great team, adding that the treatment he has gotten from the French giant was key.
He is also looking forward to playing in the same team with Neymar after being rivals for years while the Brazilian was plying his trade with Barcelona.
Leave a comment