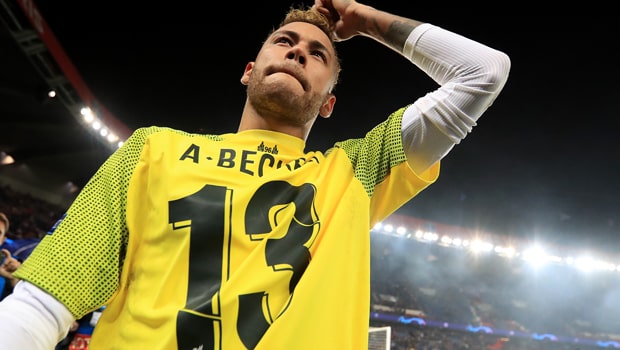 Paris Saint-Germain are facing an anxious wait on the fitness of Neymar after he suffered a metatarsal injury to his right foot during a 2-0 French Cup win against Strasbourg.
The Brazilian was close to tears as he left the field in Paris on Wednesday night and is now considered a doubt for next month's Champions League showdown with Manchester United.
The French giants are set to travel to Old Trafford on February 12 to face Ole Gunnar Solskjaer's revitalised outfit in their last-16 first leg.
Neymar was fouled three times in a few seconds by Moataz Zemzemi of Strasbourg prior go going off injured. The 26-year-old responded by doing a "rainbow flick" over the head of Zemzemi but soon after he was leaving the field, seemingly in tears and pain.
The French champions will wait for a full medical assessment on the injury but they feat he has suffered a very similar metatarsal fracture to the one that kept him out between February and May last year.
PSG manager Thomas Tuchel was unhappy with the treatment and some of the comments by Strasbourg players afterwards, with one telling Neymar "don't go blubbering".
"It was a situation where he was fouled three times, one after the other. The referee didn't give anything. He twisted his foot," said Tuchel.
"[He] is worried, because it is the same foot, the same place." Strasbourg manager Thierry Laurey described Neymar as a "phenomenon" afterwards but also defended his own players, insisting they are permitted to "play tough" in the face of the 26-year-old's brilliance.
"There are moments when you have to play tough, it's as simple as that," Laurey said. "There are moments when, if you go over the limit a little bit, you have to expect that you are going to get a kick or two.
"I didn't ask my players to go and kick Neymar, but I understand why the players had had enough of someone who was looking to tease and taunt them a bit."
PSG are 2.38 favourites to win at Old Trafford next month, with Man United 2.88 and the stalemate 3.50.
Leave a comment