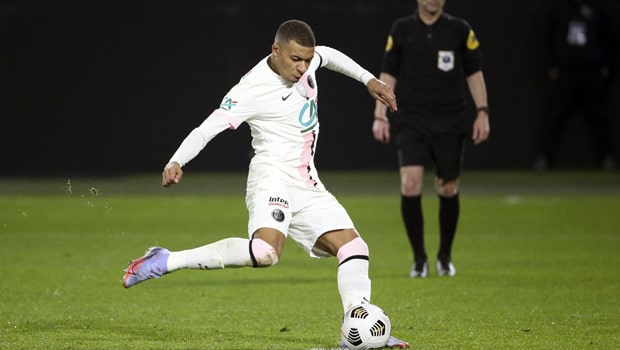 Although he appears to be set on leaving P.S.G, France striker Kylian Mbappe is on the verge of breaking Zlatan Ibrahimovic.
This is following his 150th PSG goal in a hat-trick turn that sees the Ligue 1 giant progress to the round of 16 of the Coupe de France. The Paris club tears apart 4th tier club,  v 4-0 in the round of 64.
Mbappe became the star of the evening with a hit hat-trick that takes his tally to 150 goals in all competitions for the capital club.
Mbappé led the game line that PSG dominated despite some COVID- and injury-related absences in their Parisian ranks. This includes the absence of Lionel Messi, Neymar Jr.
Reacting to the feat, the 22-year-old described it as an honour.
While noting that scoring so many goals for such a big club like PSG is always nice.
As it stands, the 2018 World Cup winner is now six goals behind Zlatan Ibrahimovic. Surpassing Ibrahimovic, who currently plays for AC Milan, is realistic.
However, it will be a tall order to beat the record of Edison Cavani, who is the club all-time highest goalscorer. Mbappe is needs 50 goals to win the description of the Uruguayan.
While noting that the gap between us, he and Lionel are closing is closing more and more.
Counting himself lucky to play alongside the two great players, Mappe, who said Ibrahimović isn't far off, added that the most crucial thing is a match.
It won't be a surprise to see Mbappé overhauling Ibrahimovic in the second half of the current campaign.
Moreover, since he will be a free agent from January, he could leave the club in the second position on the all-time scorers' chart.
Not carried away by speculations surrounding her, the France prodigy says he is staying focused on the task at hand as he looks to keep breaking records and winning titles.
Leave a comment