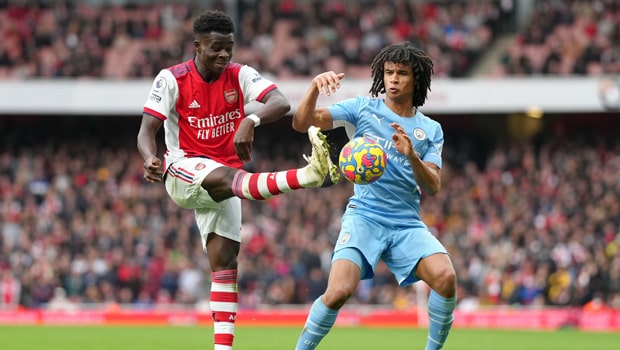 Manchester City recorded its 11th straight Premier League win in a row thanks to a 93rd minute winner from Rodri to make it a 2-1 win over a 10-man Arsenal squad.
"Eleven games in a row is great in this period," Manchester City manager Pep Guardiola said. "Look at our bench. We have four academy players. We had many cases of Covid this season and injuries. Today with Kyle Walker was first time on the bench since Covid testing. We were incredibly tired and they were better. But football has happened. Sometimes it comes in our side."
City remain at the top of the standings, while Arsenal are now just one point ahead of West Ham United in the No. 4 spot.
"You always have two or three games like this in a season," Guardiola added. "They showed why they are in their position. The way they have grown with Mikel [Arteta] is huge. We know they have more rest than us. They have six days to prepare, we have three games in one week and travel. It is tough sometimes, when you don't have the physicality. We have to maybe play a bit more easy. We struggled in the first-half but took control in the second a bit more and do more our game. They played a great game but we showed our champions personality."
Arsenal were the aggressors to start the match as Bukayo Saka found the back of the net in the 31st minute.
Saka has 4 goals and 2 assists in Arsenals last 5 Premier League games.
Arsenal were clearly frustrated with the VAR decision in the first half that Martin Odegaard was brought down by Ederson in the box.
Ultimately referee Stuart Atwell was told to not review the footage as it would be impossible to determine if Ederson touched the ball or not.
"I am basing it on both penalties — the inconsistency of going to the screen, the referee might have ruled it out straight away when he looked at it," Arsenal goalkeeper Aaron Ramsdale said. "But it is the fact he went to look at it. Both in real time he said no penalty, but he only gets told to look at one. Theirs was soft but he gets told to look and has given it. I am at the other end of the pitch for our penalty shout. The goalkeeper comes out with his foot and he either catches him or the ball. The Bernardo one, he stood him up and it is got given. Penalties are penalties, but for us it is getting told to look at the screen."
Despite the loss, Arsenal were extremely tactical in their play, especially following the Gabriel red card (59'). Their mid-press allowed a level of balance to block passing lanes while being able to win the ball back and attach. The 5-3-1 switch following the red card made it that much more difficult for City to find the winner.
"Tough to take because we gave everything but performing like that and with that spirit we can achieve a lot in 2022! #GodsPlan," Saka said on Twitter after the match.
Arsenal are in EFL Cup action against Liverpool next week (6 January) before FA Cup action against Nottingham Forest (9 January). Their next Premier League fixture is set for 16 January against Tottenham.
Manchester City match up with Swindon Town in FA Cup third-round action next week (7 January) before a PL fixture with Chelsea on 15 January.
Leave a comment