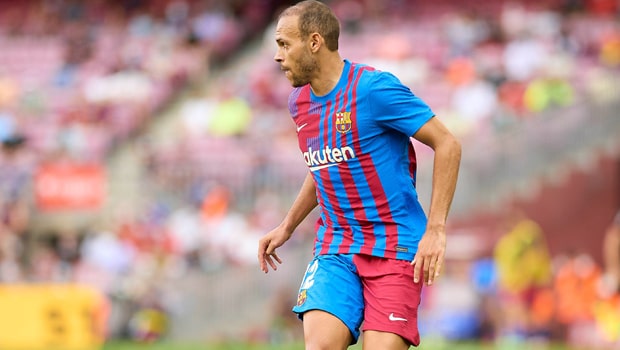 Barcelona will start their 2021/2022 UEFA Champions League campaign against Bayern Munich on Tuesday at the Camp Nou without Denmark striker Martin Braithwaite.
Ronald Koeman's side has it all to do as they suffered a setback with news on Monday indicating that Danish striker Martin Braithwaite will undergo surgery for a knee problem.
Barcelona made the revelation on Monday on their website through a statement.
"The first-team player, Martin Braithwaite has a femoropatellar injury in his left knee which has not responded to conservative treatment. The Danish striker will undergo surgery in the coming days. The club will publish a new injury update when the process has taken place."
The Danish forward has made three appearances in La Liga so far this season totalling 226 minutes. On the opening day of the season against Real Sociedad at Camp Nou, the striker scored two goals and provided an assist.
The Catalonia side will go into the game as the underdogs after losing a core of their key players in a turbulent summer.
Argentine forward Lionel Messi left for PSG while a couple of players also left as Barcelona tried to balance the books.
However, the team can bank on Dutch forward Memphis Depay who has inspired Barcelona to two wins and a draw in the La Liga this season. They have also signed Luuk de Jong from Sevilla to bolster their attack. While teenager Yusuf Demir could also get an opportunity to play.
Depay joined from French Ligue 1 side Lyon during the summer alongside Sergio Aguero and Eric Garcia in defence from Manchester City.
Ansu Fati was also reported to be on course for a return but first games of the UEFA Champions League come too early for the Spaniard.
Leave a comment