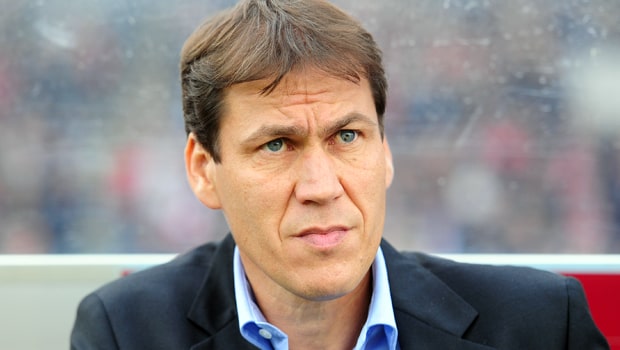 Lyon coach Rudi Garcia is speaking ahead of the Champions League knockout clash against Serie A champions, Juventus, saying the Turin giant is an institution that rarely changes its identity.
The first leg of the match will be held in France tonight at 20.00 GMT.
Despite Maurizio Sarri's tactical discipline, the former Roma manager at a press conference said Lyon is confident ahead of tonight's game despite having inconsistent runs in the local front.
Having studied Juventus in the last few days, he said he can see elements of Maurizio Sarri's tactical discipline in the side, which was noticed in his Napoli and Empoli team.
Describing Sarri as a coach with precision in tactical terms, Garcia said he discovered in 2013  that the Turin giant was an institution in Italy, adding that they have been under the same owners for years, with their own stadium and try to improve their squad every season.
Speaking further, he said after all preparations have been done, it is now up to his team to get the best possible result in their backyard ahead of their second leg meeting in Turin.
While noting that Juve is a clear favourite in the tie, he said Lyon wants to go beyond expectations, using the current champions Liverpool as an example after suffering a 1-0 loss away to Atletico Madrid last week,  and Paris Saint-Germain losing 2-1 against Borussia Dortmund.
Ahead of the week's fixtures, Garcia described it as a complex with Juventus game, the local derby, and other important fixtures coming up.
For his team to get a win against tactically minded Juventus, Garcia said they must be highly motivated and ready to cause their visitors troubles as the team can't just focus on the defence throughout the entire duration.
On the performance of his team so far, he said all is not lost yet despite being out of the Champions League spot in the current season. He added that all that is required is Lyon to be on top of their game in every aspect, and the fans can help them as well.
Leave a comment