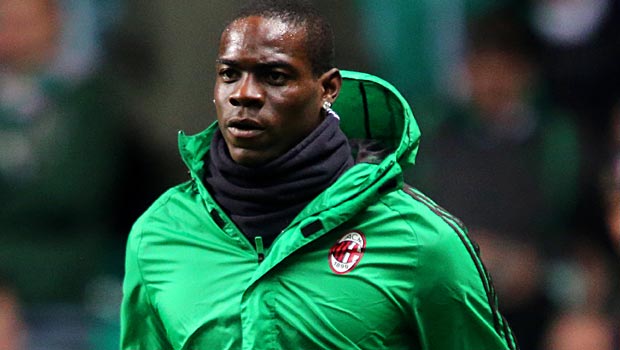 Manager Brendan Rodgers says Liverpool is 'probably the last chance' for Mario Balotelli to kick-start his career after the striker completed a £16million move from AC Milan.
The Italy international secured his return to England on Monday night after completing a medical and the 24-year-old was in the crowd to watch the 3-1 defeat to reigning Premier League champions Manchester City.
Balotelli is well-known for his spell at the Citizens from 2010-13 where he scored 20 goals in 54 appearances and the striker was a part of the title-winning side in the 2011/12 season.
The Italian undoubtedly has the talent and skills on the pitch but it is his off-field antics that have been a cause for concern.
Balotelli famously fell out with City manager Roberto Mancini in training which effectively ended the striker's time at the Etihad, with the latter exiling the player from the team in the 2012/13 campaign.
The Italy international has also had various other altercations including a match against Fulham where replays showed Scott Parker being kicked in the head whilst on the ground by the forward.
Despite reviving his career in AC Milan last season where he scored 26 goals in 43 appearances, the Serie A side have decided to part with their prized asset for £16million.
Liverpool boss Rodgers has admitted that transfer is 'a risk' but he is confident that the club can get the best out of the striker.
"We can improve him as a player and help him mature," he's a very bright boy. He was very clever. He understood where he's at, at this stage of his career, and he knows himself that this is probably his last chance," he said.
"Time will tell. Of course it is a risk. I am not going to say it wasn't but he knows he needs to fit into our culture."
Balotelli could be included in the squad for the Premier League clash with Tottenham on Sunday where the Reds are 2.67 to get the away win, whilst the hosts are slight favourites at 2.55.
Leave a comment