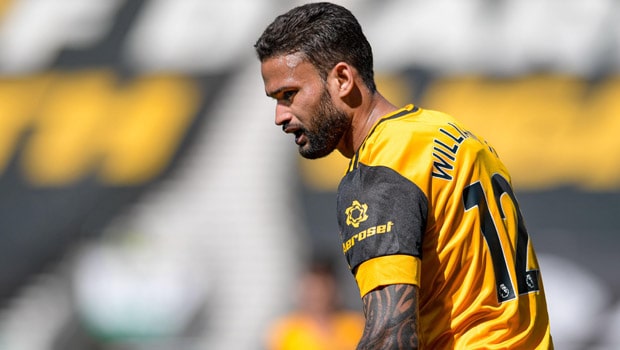 Brazilian striker Willian Jose revealed that he had an offer from Manchester United but his club Real Sociedad blocked his move to Old Trafford. The Red Devils were looking to bolster their forwardline and they shortlisted several players from all across Europe.
United had a shortage of forwards and they eventually ended up with Odion Ighalo in a loan deal from Shanghai Shenhua. Later they welcomed Edinson Cavani who joined for free after his contract expired with Paris Saint Germain.
Jose revealed how he was among the forwards shortlisted by the Red Devils. He was not happy with the way the Sociedad board treated him during that time. La Real later allowed the Brazilian to join Premier League outfit, Wolves on a short term loan deal. But why they did not sell him for a hefty fee still baffles the 29-year-old forward.
"I think they have not treated me well," Willian Jose told Spanish publication Noticias de Gipuzkoa. "I expected a little more. When I renewed my contract, I had spoken with Roberto Olabe about there being some interested teams, from the Premier League and also from La Liga.
"I spoke with Roberto, and he told me that if a big team which played in the Champions League came in for me, they would let me go. I stayed calm.
"Then came Barcelona and an offer from Manchester United. I saw that it was an opportunity that I could not miss out on because life is like that. You have to take advantage of opportunities, and I saw that it was the opportunity," he went on.
He then was shocked how the club allowed him to join Wolves on a short term loan deal.
"In the end, things did not go well, and this year they let me go to Wolves.
"I don't understand why a few months ago they didn't want to let me go for €23 million and now they have let me go. Football is sometimes difficult to understand," Willian Jose explained.
Wolves roped in Willian Jose to replace Raul Jimenez as he suffered a major skull injury. The Wolves management were convinced that the Brazilian will help them finish in the top half of the table. But the 29-year-old only scored once in 17 appearances.
Leave a comment