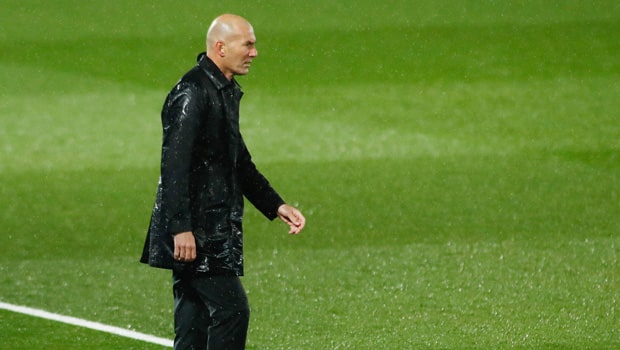 Real Madrid manager Zinedine Zidane has said that he is hopeful of a top performance from his side when they face Liverpool at the Anfield stadium on Wednesday in the second leg of their UEFA Champions League quarter-final fixture.
The Los Blancos defeated Liverpool 3-1 at the  Alfredo di Stefano Stadium with a brace from Vinicius Junior and a goal from Marco Asensio giving Zidane's men the victory.
However, Mohamed Salah's goal in the 51st minute gave Liverpool what could be a very vital away goal for the second leg.
Real Madrid also boosted their confidence with an impressive 2-1 victory against Barcelona in the El Clasico in the La Liga on Saturday evening.
Real Madrid have been in a good run of form generally as the Lost Blancos are unbeaten in their last 13 March, winning 11 of them and only playing draw twice.
However, they've had injury worries ahead of their second-leg fixture with the likes of Dani Carvajal questionable while Edin Hazard, Lucas, Sergio Ramos, and Raphael Varane all out of the tie.
Zidane explained that while he would love to have the injured players available for the fixture at the Anfield stadium on Wednesday evening, he believes the players available would be able to give him the best performance to get the needed results against the Premier League side.
"A lot of things have happened to us this season, we are missing a lot of players right now and, while I'd love to have them all available, we're going to make sure we put in our best performances with the players we have," Zidane said.
The injury list for Liverpool is also large as the likes of Divock Origi, Virgil Van Dijk, Joel Matip, and Jordan Henderson as well as Joe Gomez all out with injury.
The winner of the tie on aggregate will face Chelsea in the semifinals after the blues got past Porto 2-1 on aggregate in the quarter-finals.
Leave a comment