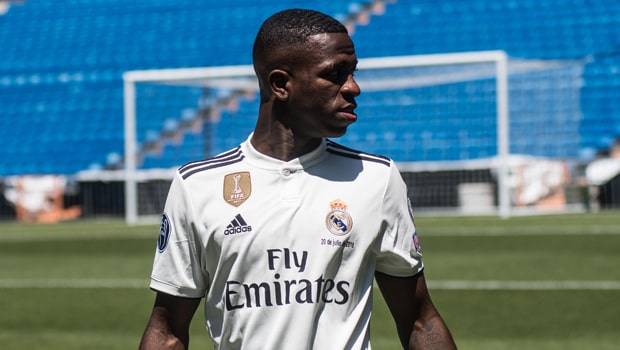 Vinicius Junior scored a late goal to help Real Madrid to secure 1 point from Real Sociedad ahead of their weekend's at Madrid Derby against Atletico Madrid.
La Liga leaders Atletico Madrid will face Real Madrid at the Wanda Metropolitano stadium on Sunday 7th of March in a game that could decide the La Liga title race as both Barcelona and the Los Blancos sit five points away from Atletico.
Diego Simeone's side got a 2-0 win over Villarreal on Sunday to extend their lead but Real Madrid failed to keep in touch with the league leaders on Monday evening.
Real Sociedad got the lead in the second half of the game in the 55th minute of the game with a header from a Nacho Monreal's cross.
The visitors were unbeaten in their last four games in the La Liga albeit they lost 4-0 to Manchester United in the first leg of their UEFA Europa League round of 32 ties.
While they got a 0-0 scoreline in the 2nd leg at Old Trafford, it wasn't enough to see them through to the next round.
The first half started with Real Madrid pressing hard but they failed to get past the impressive defense of Real Sociedad.
After Portu's looping header had beaten Thibaut Courtois, the game looked like a win in the box for the away side but a consistent attack from Zidane's men paid off when Vinicius Junior met Lucas's cut back in the box and put it beyond Alejandro Remiro in Real Sociedad's goal.
The draw puts Real Sociedad in 5th position with 42 points from 25 games while Real Madrid remained in the 3rd position.
Real Sociedad will face Levante in their next game at the weekend while Real Madrid and Atletico will face each other in a game that could get Real Madrid within two points of their rivals.
Leave a comment