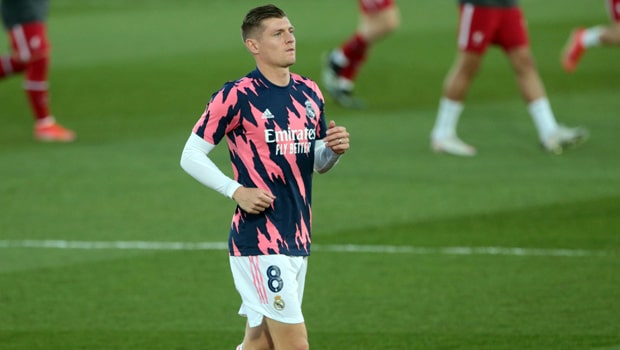 Real Madrid and Germany midfielder Toni Kroos have been ruled out of the first set of La Liga matches in the 2021/2022 season after being diagnosed with pubalgia.
The former Bayern Munich Midfielder retired after Germany's disappointing Euro 2020 where they were knocked out in the quarter-final by England.
The 31-year-old made the revelation about his situation in a tweet.
"After several month (sic.) of problems on my pubic bone I think it's time to give it a rest and work on it to be well prepared for a long season. Back ASAP as always," Kroos tweeted.
Meanwhile, reports indicate that the 2014 FIFA World Cup winner will be out for up to a month before featuring for the Los Blancos this season.
Toni Kroos made 28 games for Real Madrid last season and scored three goals in the process but it is not certain that the midfielder will feature in Real Madrid's first game of the season into La Liga against Alaves on the 15th of August.
He will also miss Real Madrid's last preseason game against AC Milan and games against Levante and Real Betis before the first international break of 2021-22.
It is left to be seen what role Toni Kroos will play under Carlo Ancelotti who became manager of the club after Zinedine Zidane left his role at the end of last season.
The club has lost Sergio Ramos and is also on the verge of losing Raphael Varane who is inching closer to a move to Premier League side Manchester United.
Real Madrid has also appointed Brazilian wingback Marcelo as skipper ahead of the next season while former Bayern Munich defender David Alaba has been signed on a free transfer.
Sergio Ramos joined Paris Saint-Germain on a free transfer after failing to sign a new deal.
Leave a comment