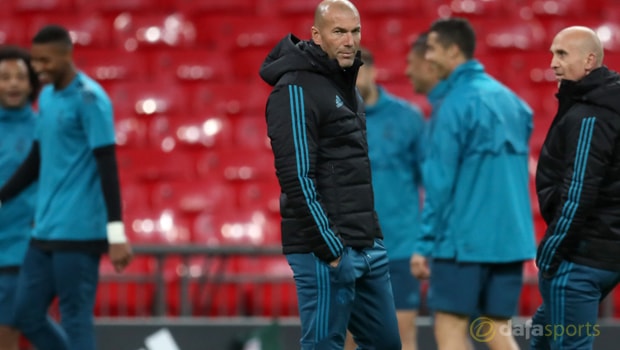 Manager Zinedine Zidane believes Real Madrid are turning their season around after they eliminated Paris St Germain from the Champions League.
The two-time defending European champions trail Barcelona by 15 points in La Liga.
They have also been knocked out of the Copa del Rey and finished second to Tottenham Hotspur in their Champions League group.
It led to massive pressure building on Zidane but the coach was upbeat after a vital test was passed in his homeland.
Second-half goals from Cristiano Ronaldo and Casemiro secured a 2-1 win on the night against PSG and a 5-2 aggregate victory for Real Madrid.
Their hectic schedule means Los Blancos cannot win all the time says Zidane, but he's happy with their current form and suggests PSG were made to falter by Real's performance.
"We've had difficult moments in La Liga and Copa del Rey, but it's always difficult to maintain the same level while playing every three days," he said.
"You can't always win everything, but we're winning now in La Liga and we have to look ahead to our game with Eibar on Saturday.
"Paris were perhaps not as good, but that's maybe because we played well. After the sending-off and the second goal, it got more difficult for them."
Real Madrid are 5.00 to win a third successive Champions League crown this season. Manchester City are favourites at 4.00, with Barcelona 5.50.
Zidane's opposite number Unai Emery meanwhile conceded that seeing Paris St Germain's dream of European glory ended so early was a big disappointment, particularly given they'd started so well in Spain during the first leg, only to concede two late goals.
"We all want to win this competition quickly. We'll continue with patience, and build a team that can win," he said, "I'm sure this team can win the Champions League.
"Losing to Madrid is not a disappointment, but going out in the last-16 is. But, the first leg was the key because we were better over the first 80 minutes than them.
"They controlled 60 per-cent of this match and we couldn't do enough in the 40 per-cent we controlled."
Leave a comment