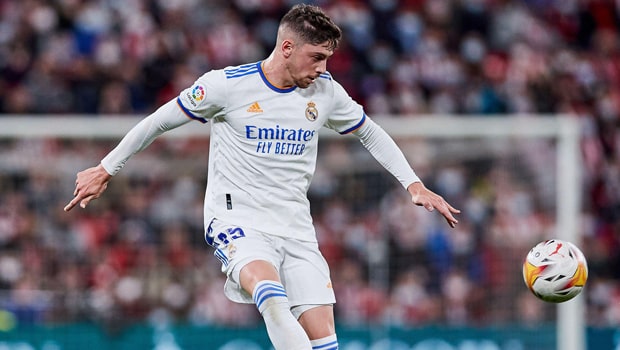 Real Madrid managed to keep a hold of the lead after their third go-ahead goal as they took down Barcelona, 3-2, thanks to Federico Valverde's extra-time goal to reach the Supercopa de Espana final this weekend.
"Tonight we suffered and competed against a great rival," Madrid manager Carlo Ancelotti said via social media after the win. "Now it's time to get ready to give our best in our first final of the season."
They will face Athletic Bilbao after they defeated Atletico Madrid, 2-1, on Thursday.
"The team was ready for these kinds of matches," Ancelotti said to reporters. "It was always going to be a close match. We especially played well in the first half, we were effective from the back and on the counter. We made mistakes from tiredness but our counter attacks were efficient."
According to ESPN Stats & Info, Valverde scored the third-latest game-winning goal (98') in El Clásico history across all competitions.
"I have to be honest, Barça played a very good game and have great players," Ancelotti added. "It was a difficult match, with two good teams. We attacked very well & could've defended better."
Valverde's winner this week gave Madrid its 100th El Clásico victory.
"With Valverde we have a very quick access to the opponents half, he scored a brilliant goal," Ancelotti said.
Madrid found the back of the net first thanks to a 25th minute goal from Vinícius Júnior before Luuk de John evened up the match 1-1 right before the break (41′). Karim Benzema gave Madrid the lead again in the 72nd minute before Ansu Fati would make it 2-2 in the 83rd. Valverde sealed the deal in the 98th minute.
"The match was hard, because it was even, with good players and two good teams," Ancelotti wrapped up. "It was an entertaining game."
Xavi Hernandez said this Barcelona team should leave with their 'heads held high.'
"The feelings of the team were good," Barcelona's Pedri said. "We have a very young squad but we were able to compete the whole game against Madrid. We are still looking to improve with Xavi's guidance."
Real Madrid won the Supercopa in 2019-2020 season, and Bilbao won it in the 2020-2021 season. Those two sides will match up in the Supercopa final on Sunday, 16 January. This will be their third meeting in less than 40 days.
Leave a comment